Clean water plays a vital role in the economic prosperity of Minnesota. Our goal is to make waters drinkable, swimmable, and fishable.
In 1972, Congress passed the Clean Water Act, establishing the basic framework for regulating pollution in waters by creating water quality standards to protect drinking water and to maintain a healthy aquatic community for animal and recreational uses.
Over the last 50 years, the MPCA has led the nation with strong foundational science on many water quality standards, including phosphorus in lakes and streams and tiered aquatic life uses. Our ongoing watershed-based monitoring and assessment work has developed indices of biological integrity and biological condition gradients for both fish and invertebrates.
Minnesota has made massive investments into wastewater treatment facilities and developed rules to address the effects of phosphorus and other pollutants, such as chloride.
Communities have learned to see stormwater management requirements as an opportunity to protect and enhance their valuable water resources and build resilience to a changing climate. Using natural hydrology through filtration/infiltration and establishing setbacks, buffers, and other best management practices, communities can prosper in a manner that can benefit the environment for years to come.
We have made great progress in reducing pollution, but we are challenged by an ever-growing list of potential, persistent and emerging contaminants, such as sedimentation of streams and rivers, pollutants from runoff like nitrates and sulfates, and the forever family of chemicals known as PFAS.  Plus, extreme weather events are causing the release of more contaminant into our waters and increasing water temperatures.
Over the next year, in celebration of the Clean Water Act and appreciation of Minnesota's own Clean Water Amendment, we will highlight the gains that have been made in water quality and actions every Minnesotan can do to preserve water quality now and into the future.
As part of the Clean Water Act 50th anniversary celebration, Governor Tim Walz proclaimed October 2022 as the Month of Clean Water.
Toolkit for partners
Image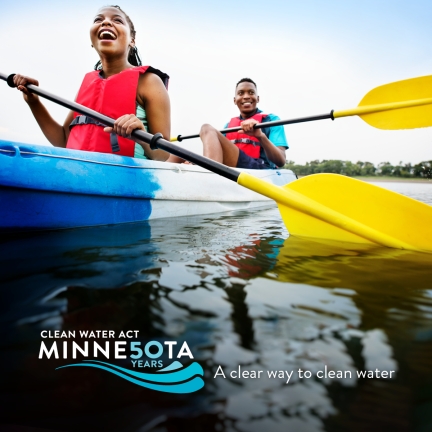 Help us celebrate the 50th anniversary of the Clean Water Act and the great work underway thanks to the Clean Water Fund by using these promotional tools to showcase the importance of clean water.
(Logos, posters, web banners, social media graphics and more)

We have of variety of current and historic water photos available in our Clean Water Act Anniversary Flickr album. You don't need to sign in or have an account to access our Flickr photos. Images on the Flickr site generally have caption and background information included. We request that you attribute the Minnesota Pollution Control Agency as the source of any image you use.
Resources for municipal wastewater treatment facilities
Image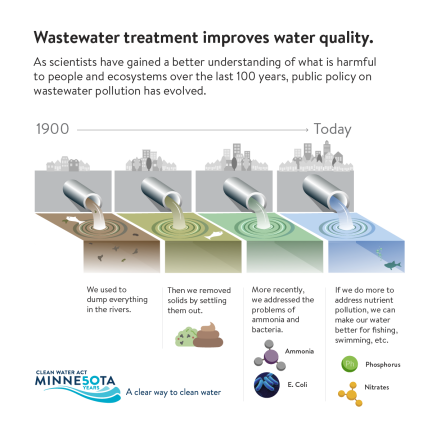 Use these new graphics and existing toolkit elements to continue to educate your residents.
The wastewater process. Download a WW treatment visualization and photos for posters, web banners, newsletter articles, social media graphics, and more.
Wastewater through history. Another graphic for promotional and educational use to explain how treating water has evolved.
What not to flush toolkit. Use our toolkit to set up a special web page or make a flyer regarding what not to flush, or include this information in your statements to residents. (Here's a good example from the Metropolitan Council.)
Resources for municipal stormwater
Image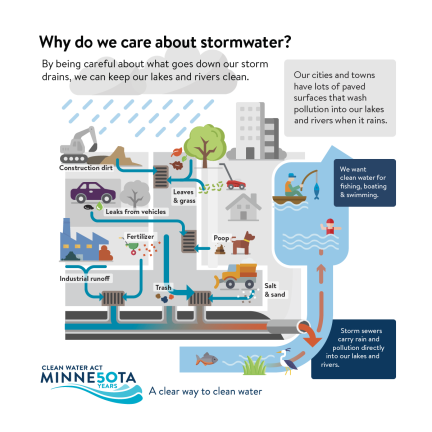 Where water flows. Download a graphic visualization and photos of how water flows into your stormwater system to help residents keep drains clear, reduce salt usage and more.
Using the toolkits
The toolkit materials are protected under copyright, and limited use is granted to Minnesota county and municipal agencies, as well as our water partners, under a Creative Commons License. Materials are distributed here for the sole purpose of clean water education within the state of Minnesota.