Image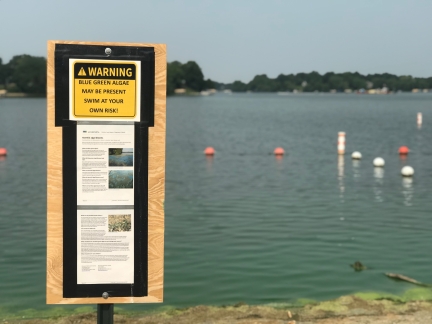 Counties, cities, and other local government entities may consider closing swimming beaches or posting advisories when harmful algae blooms are known or suspected in local bodies of water. The following is guidance and recommendations for local officials dealing with public health issues related to blue-green algae. For more general information about harmful algae blooms, visit the Blue-green algae and harmful algae blooms page.
There is no single approach for evaluating and making decisions regarding the presence and potential threat of harmful algae blooms in bodies of water. The first step is communicating how people can minimize their risk from harmful algae blooms. Your organization can choose to monitor for harmful algae and potentially take further action based on the results.
Testing surface water for cyanotoxins (toxins produced by blue-green algae) provides the best measure to assess the public health risk from harmful algae blooms (HABs) and inform health-protection decisions. While most cyanotoxin studies and monitoring efforts have focused on microcystin, the MPCA recommends testing for both microcystin and anatoxin-a because they are the two cyanotoxins most commonly found in Minnesota.
MPCA recommendations: Cyanotoxin levels for swimming advisories
| Type of cyanotoxin | Swimming advisories (µg/L)* |
| --- | --- |
| Microcystin (-LR and total) |     6 |
| Anatoxin-a |     7 |
| Cylindrospermopsin |     15** |
*Recommended recreational swimming advisories should not be exceeded on any given day at beaches or other recreational water bodies. Advisories based on Minnesota Department of Health values and U.S. EPA exposure parameters.
**Based on U.S. EPA draft recommendation
Testing water samples for microcystin and anatoxin-a provides specific results that can be compared to the swimming advisories (above) and inform decisions about managing beaches and using the water for swimming, fishing, and other activities.  However, the results reflect conditions at the time the sample was collected; conditions may change quickly, sometimes even before the test results are available.
There are several other ways to evaluate the presence of cyanotoxins besides testing (with lab analysis). Some states use visual observations or total cyanobacterial cell count to protect swimmers from cyanotoxins. But the federal government doesn't have protective recommendations related to those values. The MPCA is monitoring the science related to HABs to glean any useful information for lake and beach managers. A summary of currently used methods and what they involve is provided below, followed by more detailed information for each method. 
Monitoring and advisories
Comparing testing options
| Test type | Cost | Time to result | Accuracy level |
| --- | --- | --- | --- |
| Visual assessment tests | None | Immediate | Low |
| Do-it-yourself tests | $ | One hour to one day | Low to moderate |
| Laboratory tests | $$ | Two days | High to highest |
When collecting samples
Avoid contact with the water by using a sampling rod, waders, or a boat to obtain samples. Wear gloves or wash immediately after collection.
Collect samples below the surface of the water, no deeper than two feet.
If you see considerable vegetation or rocks with algae growth near shore, collect a second sample after disturbing the algae from those surfaces.
1. Visual assessment tests
Look for presence of floating or suspended algae in the water or on rooted vegetation and rocks
If not present, or determined to be non-cyanobacterial, then no further action needed
If cyanobacteria is present, consider one of the tests below
Caution/advisory signage could be posted
2. Do-it-yourself tests
Jar and stick tests are free ways to determine if a bloom is cyanobacteria, though they can't tell you if the bloom is toxic
Algae toxin test strips can determine the presence or absence of cyanobacterial toxins in about an hour.

Reporting limits are important

Anatoxin-a range is 0-2.5 µg/L
Microcystin range is 0-5 µg/L for drinking water or 0-10 µg/L for recreational water

The test strip shows if the toxin is present but not if it exceeds Minnesota's recreational guidance values

Field microscopes can help identify what type of algae you have, but will not tell you if it's toxic.
NOTE: Sampling gives you a snapshot in time; concentrations vary by depth, time of day, and weather conditions. 

Detected toxins could be gone the next day.
A clean test with no toxins does not mean that toxins won't be present the next day

If toxins are detected, consider lab analysis and think about posting signs to warn users about the health risks.
3. Laboratory tests
Test types:

ELISA and bench instrument tests determine toxin concentrations
Lab microscope test determines algae type

Consider reporting limits and lab result turn-around time

You may need to request lower-level analysis to determine if guidance values are met
Blooms are short-lived – if you won't have results for several days or a week, you will not be able to make timely advisory decisions

Follow sampling and preservation guidelines from your laboratory
If toxins are detected and exceed the recreational guidelines, consider posting warning signs or closing the beach.
Lifting caution/advisories/warnings/closures
Visible scum is gone
Toxin levels fall below the recreational guidelines
Sampling frequency
Because samples cannot be taken constantly, water quality sampling can only provide a snapshot in time of water conditions and cannot always determine whether people will become ill from swimming.
Based on available staff time, funds, and the body of water's history of harmful algae blooms, monitoring frequency should be similar to a beach bacteria-monitoring program. Sample high use beaches one to two times per week and lower use beaches one time per week. Beaches with sporadic use or limited access might not warrant monitoring. If you can't monitor at your beach, consider posting resources listed below to help beach users minimize health risks.
Communications
Reporting illness
If you or your pet is currently experiencing severe symptoms of potential harmful algae bloom exposure please seek immediate medical or veterinary attention. Then report your harmful algae bloom incident exposure as soon as possible after contacting your medical or veterinary care provider. Report human and animal illnesses that may be due to harmful algae blooms to the MDH Foodborne and Waterborne Illness Hotline by calling 1-877-366-3455. Health care providers and veterinarians can report suspect or clinically diagnosed cases of harmful algae bloom-related illnesses to MDH by calling 651-201-5414. Veterinarians, visit the MDH web site for information on HAB-related illness, including clinical features, differential diagnoses, and treatment options.
Reporting blooms
Algae blooms are a normal part of lake ecology. If you observe a large or very dense bloom and would like to report it, please use the bloomWatch app.
Reporting fish kills
If you see multiple dead fish in a lake or river (or runoff or a spill entering waters), call the Minnesota Duty Officer at 800-422-0798. Calls are answered 24 hours a day, 365 days a year. If there is an immediate threat to life or property, call 911 first.
Communications resources
Whether you are monitoring beaches for HABs or not, you can post information to help beach users make their own decisions about swimming, fishing, and other activities. You are free to print and use these posters: