Partner with an award-winning exhibition to engage Minnesotans with environmental ideas, challenges, and inspiration for a better future.
This 12-day exhibition from the Minnesota Pollution Control Agency (MPCA) draws nearly 260,000 visitors per year. There have been 3.8 million total visitors since 2006. As one of the most popular buildings at the State Fair, the event draws prominent visitors. Minnesota's governor, state and federal representatives, business, media and nonprofit leaders, and local Arctic explorers have visited the building.
Engaging
Image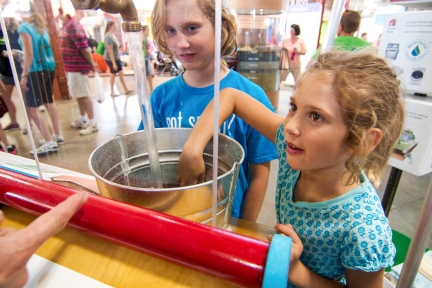 Visitors spend time asking questions and learning about environmental ideas and the work of the MPCA. One third of the people who come to the Eco Experience are looking for specific information. Other organizations around the country have replicated the exhibit because of its high impact and engagement value. Since 2006, the event has been recognized for its large scope, high integrity, and widespread impact.
Media and social coverage of the exhibition has generated an average of 50 million media impressions every year. In 2022, there were nine live television segments, 10 live radio shows and stories, and multiple newspaper stories throughout the state. The nearly 240 social media posts before and during the fair reached more than 100K viewers and netted more than 1,300 reactions, 250 shares, and 4,700 video views.
Collaborative
In addition to the Minnesota State Fair and MPCA, many government, business, and nonprofit partners contribute more than $1 million each year to the event.
2023 exhibitors and major partners
Minnesota Pollution Control Agency
Blue Thumb Partners
Center for Global Environmental Education at Hamline University
Clean Energy Resources Teams
Firefly Play Environments
Health Partners
Metro Transit
Minnesota Department of Transportation
Minnesota Department of Commerce
Minnesota Department of Agriculture
Minnesota Department of Health
Minnesota Renewable Energy Society
Minnesota Greenstep Cities
Minnesota Electric Vehicle Owners
Renewing the Countryside
Reuse Minnesota
University of Minnesota Tree Care Advisors
Xcel Energy
Innovative
Partners connect with visitors through creative and interactive experiences and exhibits.
Xcel Energy: Renewable energy and energy efficiency
Image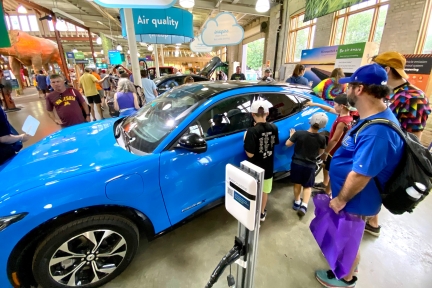 Learn more about energy efficiency programs like AC Rewards, Home Energy Squad, lighting deals, and more. Visit our tiny house to discover tips and tricks to conserve energy at home. Learn more about what renewable option is right for you by visiting our Renewable Pillar. Practice charging an electric vehicle in our EV Garage. We want to empower visitors to take action and understand that together we can get to a carbon-free future.
Renewing the Countryside: Farmland access, food and economic resilience 
Image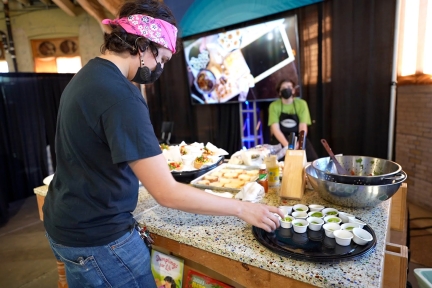 Educational and engaging storytelling that speaks to the issues and solutions around farmland preservation and resilience playing out in Minnesota today and what we hope to see in the future. The exhibit will feature hands-on activities for kids to learn more about Minnesota-grown produce, Minnesota farmers and food-makers who will offer samples of their products, daily demonstrations by celebrated Minnesotan chefs who will teach us their favorite recipes using Minnesota ingredients, daily movie and local popcorn nights, and more!
Blue Thumb: Protecting water and pollinators in your backyard
Image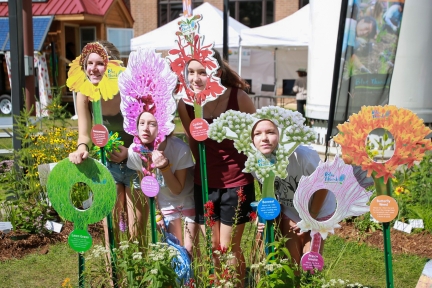 Educational native plant exhibit will help visitors envision their own yards bee-ing a part of the change to support pollinators. Take a stroll through our garden and learn about all the different native plants you can plant in your own yard. Learn how to create pollinator habitats, manage stormwater runoff, and find resources to start a project. Get to know our state pollinators, the Rusty Patched bumblebee and Monarch butterfly, and grab a free button upon completing our pollinator activity.