The MPCA commissioner directs the day-to-day work of the agency's staff.
John Linc Stine, Commissioner
John Linc Stine was appointed commissioner of the MPCA by Gov. Mark Dayton effective May 14, 2012.
John Linc Stine joined the MPCA in March 2011 as Deputy Commissioner. Prior to joining the MPCA, John served as Assistant Commissioner at the Minnesota Department of Health where he was responsible for overseeing the department's public health emergency preparedness, environmental health, infectious disease prevention/control and the public health laboratory functions.
John also worked for 25 years with the Minnesota Department of Natural Resources as a hydrologist and administrator specializing in shoreland, flood plain, and wild and scenic river programs, water resource management and regulation. John also served as Assistant Director of the Trails and Waterways division.
John received a Bachelor of Science degree in soil and water resource management from the University of Minnesota. He is married with two adult sons.
Michelle Beeman, Deputy Commissioner
Michelle Beeman was appointed Deputy Commissioner of the MPCA in May 2012. Prior to that, Michelle served as Assistant Commissioner for Legal and Enforcement Policy since March 2011, bringing a strategic focus to the agency's legal and regulatory affairs.
Before joining the MPCA, Michelle was the Environment and Natural Resources Director for Dakota County since 2007. In that role she oversaw departments that handled watershed management, groundwater and surface water protection, contaminated lands and brownfields, recycling, waste management and hazardous waste regulation, parks, trails, and land conservation. Prior to that, Michelle was the Conservation Strategies Director for The Nature Conservancy in its Canada program, working with partners on large-scale forest protection projects.
Michelle has also worked in state government as the Legislative Policy Director for the Department of Natural Resources, and as an Assistant Attorney General representing the DNR and MPCA in environmental matters. Michelle was appointed as a member of the MPCA Citizens' Board from 2003-2007.
Michelle is originally from New York, received her B.A. in History from Princeton University, and both her M.S. in Environmental Studies/Land Resource Management and J.D. from the University of Wisconsin – Madison.
Shannon Lotthammer, Assistant Commissioner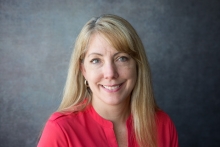 Shannon Lotthammer was appointed Assistant Commissioner for Water Policy at the MPCA in February 2018. In this role, she oversees the agency's water resources programs and activities to protect the environment and enhance human health.
Prior to that, Shannon served as the Director of the MPCA Environmental Analysis and Outcomes Division, since July 2012. Throughout her career, Shannon has served in various positions at the MPCA, ranging from Water Assessment and Environmental Information section manager, to Water Monitoring Section manager, to watershed project management. She also spent 3 ½ years in local government as the administrator of the Prior Lake-Spring Lake Watershed District in Scott County.
Shannon has a B.S. in Biology from the University of Minnesota–Duluth, and a M.S. in Ecology from the University of Minnesota–Twin Cities
Kirk Koudelka, Assistant Commissioner
Kirk Koudelka was appointed Assistant Commissioner for Land Policy and Strategic Initiatives in May 2012.
Prior to that, Kirk served as the Legislative Director at the MPCA. He led the agency's legislative efforts for the 2011 through 2014 legislative sessions in both roles.
Before coming to the agency, Kirk spent 11 legislative sessions at the Minnesota House of Representatives in various capacities. The last six years were spent focused on environmental and natural resources issues, four for which were with the House Environment and Natural Resources Policy Committee. It included administering the Solid Waste, Recycling and Resources Conservation Working Group focusing on state level changes, but also internal changes at the Legislature.
Kirk has a Bachelor of Arts in Political Science and History from Hamline University.
David Thornton, Assistant Commissioner
Assistant Commissioner David Thornton is responsible for overseeing the development and implementation of the agency's air policies to improve and maintain air quality in Minnesota.
David joined the MPCA staff in 1980 as the Acid Rain Coordinator. After that, he managed air quality monitoring, data analysis and air policy activities for many years. He has been involved with implementing federal regional haze regulations, and developing policies to help reduce air emissions, particularly mercury emissions from power plants. Most recently he has spent much of his time working on reducing greenhouse gas emissions, environmental justice and Tribal relations.
Originally from Texas, David is a graduate of Texas Christian University with a degree in chemistry and attended graduate school at the University of Minnesota where he studied atmospheric chemistry and environmental science.