Image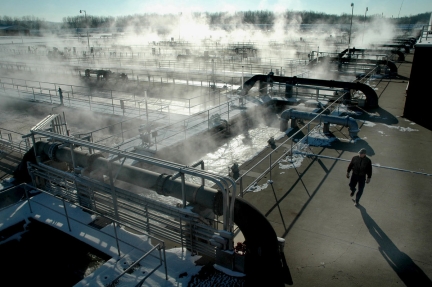 The design, construction, and operation of wastewater treatment facilities in Minnesota, both municipal and industrial, is regulated by the MPCA. Any industrial facility, municipality, or private entity that proposes to discharge a specified amount of a pollutant into surface or ground waters of the state must apply for a permit.
MPCA water quality permits establish specific limits and requirements to protect Minnesota's surface and groundwater quality. Permits are regularly reviewed and updated as they expire, allowing the MPCA to incorporate new information about the impacts of pollutants to the environment in subsequent permits. Permits are enforced through a combination of self-reporting (to the MPCA, U.S. EPA, or both) and compliance monitoring.
Types of permits
The MPCA is authorized to issue both NPDES/SDS and SDS permits, both of which can be either an individual or general permit.
NPDES/SDS — National Pollutant Discharge Elimination System (NPDES) is a federal program established under the Clean Water Act. The NPDES/SDS permit always regulates a treatment and disposal system that discharges a specified amount of a pollutant into a surface water.
SDS — State Disposal System (SDS) is a Minnesota program established under Minn. Stat. § 115. The SDS permit regulates water discharges to the ground surface or subsurface to protect groundwater.
Individual permits — A permit tailored to a specific facility or activity.
General permits — A permit that covers a group of facilities with similar activities and discharges (e.g., water treatment plants). See the list of general permits related to wastewater on the General permits page.
Major permits
Municipal/domestic — Facilities with an average wet weather design flow of greater than or equal to 1 million gallons per day
Industrial — Major discharges are based on points accumulated using the NPDES permit rating worksheet
Minor permits — All facilities not classified as major facilities
Applying for a permit
See if your activities are covered under an existing general permit on the General permits page.
Find the forms you need to apply for both individual and general permits on the Wastewater permit forms page.
Information on permit costs is available on the Permit fees page.
Permit applications must be as complete as possible to be considered, and to ensure that your request can be completed in a timely manner. The MPCA will review the application for completeness and may contact applicants to get additional information. Applications should be submitted at least 180 days prior to starting construction.
Steps to issuing a permit
1. Permit application — Permittee submits application to MPCA, and agency staff reviews it for completeness.
NOTE: If you're applying for coverage under a general permit, the rest of the steps may not apply to you.
2. MPCA team reviews information to develop the permit
Technical review
Compliance review
Impaired waters/total maximum daily load (TMDL) review
Effluent limits review and recommendations (for NPDES/SDS permits only)
3. MPCA develops permit and supporting documents
Limits, monitoring, and reporting requirements
Special conditions: compliance schedule, plans to minimize pollutants, etc.
Standard permit conditions
Fact sheet or statement of basis
4. Permit review before public notice — The MPCA sends the permit holder a draft copy of the permit to review before placing the permit on public notice.
5. Public notice — Interested parties may submit written comments, a request for a public informational meeting, or a petition for a contested case hearing. Comments received during this period may result in revisions to the draft permit.
6. Final permit issued and effective — Permits are issued for a period of five years (NPDES/SDS) or 10 years (SDS only). The permittee must apply for permit reissuance to continue coverage beyond the permit's expiration date.
Components of a permit
Cover page — Contains the name and location of the permittee, a statement authorizing the discharge, and lists the receiving water for which a discharge is authorized (NPDES/SDS permits)
Facility description — Includes a summary of the permitted activities and treatment processes
Map/location of facility and facility flow schematic, if available
Narrative permit conditions

Pre-established conditions that apply to all permits
Special conditions developed specific to the facility

Limit and monitoring requirements

Include effluent discharge limits that limit the type, quantity, and concentration of pollutants that can be discharged safely, and the type and frequency of monitoring that is required to make sure that the facility is not exceeding these limits.