Image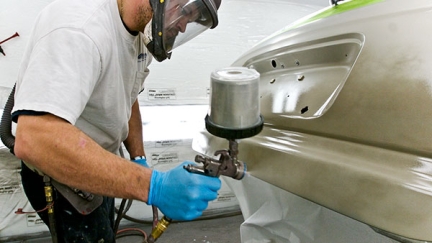 Air emissions
State
The very smallest body shops may qualify as insignificant facilities, which do not need a permit.
Body shops that use less than 2000 gallons of coatings and cleaners per year may qualify to operate without an air permit if they follow certain requirements.
Most body shops will qualify for an air registration permit. Use the calculator to determine your potential and actual emissions from painting.
Application forms are on the Air permit application forms page.
Federal
Even if your body shop has an air permit – or doesn't need one – you may need to meet the additional requirements of National Emission Standards for Hazardous Air Pollutants (NESHAP).
Vehicle air conditioner servicing and disposal
Businesses that service and dispose of motor vehicle air conditioners must have certified technicians, use proper refrigerant recovery or recycling equipment, and keep records. Learn more on the Working with refrigerants page.
Air regulation due dates
| Requirement | Due date |
| --- | --- |
| Emission inventory fee for previous reporting year | Mailed to permit holders between February and April, due within 30 days |
| Emission inventory report | April 1 |
| Emission summary review period | Begins in August/September |
| | Due 180 days after startup and by March 1 of the next year |
Hazardous waste
You need a hazardous waste identification number if your business produces any amount of hazardous waste.
Businesses generating most types of hazardous waste are required to report annually, pay a fee, and obtain a license for the subsequent year. Facilities in Anoka, Carver, Dakota, Hennepin, Ramsey, Scott, or Washington County are licensed and inspected by their county. Facilities in greater Minnesota are licensed and inspected by the MPCA. If you produce only small amounts of hazardous waste, you probably qualify as a very small quality generator:
See the Hazardous waste identification and management page for information on managing specific types of hazardous waste, such as:
Antifreeze
Lead-acid batteries
Scrap metal, catalytic converters, and wheel weights
Fuel and oil wastes
Paint booth filters
Solvents
Waste tires
Towels, wipes, and sorbents
Training
Annual hazardous waste training is required for large quantity generators (2,200+ pounds a month) and small quantity generators (220 to 2,200 pounds a month), and recommended for very small quantity generators (less than 220 pounds a month). Free training is available from the MPCA and some metro-area counties:
Hazardous waste due dates
Requirement
Due date
Mailed to license holders in first quarter, due date on invoice
License application
Due August 15 for Greater Minnesota businesses;
Twin Cities metro businesses: contact your county
Stormwater
Auto salvage yards in Minnesota may require coverage under the MPCA's industrial stormwater general permit. Learn more:
Local regulation
Be sure to check with your county, city, and township to see if they have any additional requirements.
Compliance audit checklists
Beyond compliance
Wastes
Reducing automotive wastes can save money and time, reduce regulatory obligations, and benefit the environment and worker health.
Don't get stuck with expensive-to-dispose-of 'unknowns': keep manufacturer labels protected; label and date transfer containers or applicators; rotate stock to avoid expired or obsolete products; only accept samples you know you can use.
Use refillable aerosols or spray pumps and buy in bulk. You'll save storage space and money by reducing disposable container waste.
Use a squeegee and plastic dustpan as a first step when cleaning up shop oil spills. Most of the oil will come off the floor and can go directly into your used oil container. The use of absorbents and the cost of their disposal will be greatly reduced.
Switch to a water-based parts washer (aqueous) instead of a solvent-based one. Switching to an aqueous washer can yield a less than two-year payback when reduced purchasing and disposal costs are considered, as well as being better for employee safety. If you must use solvent, on-site distillation can provide cost and environmental savings over disposal.
Use two bins ("dirty" and "clean") for parts washing to reduce disposal costs up to 50%.
Install recycling equipment for petroleum-based solvents and parts cleaners
Painting
Keep painters and paint booth floors, lights, and filters clean to minimize flaws and reduce unnecessary rework.
Have your painters attend refresher training annually – technique affects transfer efficiency, and that impacts your bottom line. Many painters only achieve about 50% transfer efficiency, meaning half of all the paint you buy is being wasted.
Replace equipment like spray guns and cleaning equipment with models with better transfer efficiency (e.g., HVLP or electrostatic spray guns). Less overspray means less waste.
Consider switching to waterborne paints. There are fewer emissions, reduced worker exposure, and a potential reduction in regulatory requirements.
More information on painting equipment and techniques at the Minnesota Technical Assistance Program (MnTAP) at the University of Minnesota.
Compressor efficiency
Easy ways to reduce compressor energy use:
Decrease the pressure. You can reduce compressor energy use by 1% for every 2 PSI reduction in pressure.
Bring cool, outside air into the compressor space. You can reduce energy use by 1% for each 5 degree F reduction in temperature.
Reuse the heat. Since 80% of air compressor energy is lost as heat, circulating waste heat for shop comfort in the winter makes good sense and can save you money.
More compressor tips from MnTAP or Compressed Air Challenge
See the Beyond compliance page for more information on reducing waste and saving money in your business.
Resources