Image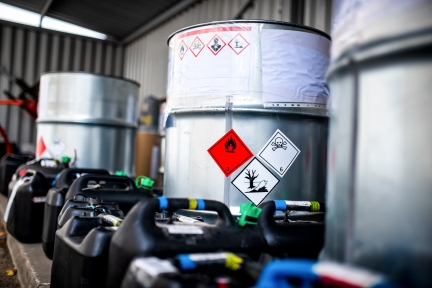 In Minnesota, commercial entities that produce any amount of hazardous waste are regulated as hazardous-waste "generators." Treatment, storage, and disposal of hazardous waste is regulated under the Resource Conservation and Recovery Act (RCRA) and Minnesota hazardous waste rules.
The MPCA regulates and provides assistance to generators in Greater Minnesota, while county hazardous waste programs serve generators in the Twin Cities metropolitan area (Anoka, Carver, Dakota, Hennepin, Scott, Ramsey, and Washington counties).
Hazardous waste generators must report the waste annually to the MPCA or their metropolitan county, pay a fee, and obtain a license for the subsequent year.
Please note: We recently updated our website and some of the links within the documents on this page no longer work. If you need access to this content immediately, please email info.pca@state.mn.us for assistance.
Hazardous waste training
Ten Steps to Hazardous Waste Compliance is an introduction to hazardous waste management and compliance with Minnesota rules. It is designed for newcomers to the hazardous waste field and those who need a refresher. It covers how to determine whether a waste is hazardous, and the handling, storage, transportation, emergency planning, employee training, and record keeping requirements for those hazardous wastes.
Reduce or eliminate your waste
Reducing the amount of hazardous waste you generate or, for smaller generators, eliminating it altogether will remove hazardous waste reporting hassles and save money on licensing fees and disposal.
Can you change your process to make it waste-free? Are there a non-hazardous alternatives to the hazardous products you use? Is there a way to reuse or recycle your hazardous waste?
MnTAP, a free service of the University of Minnesota, can help you find effective product replacements or implement process changes at your business.
Contact
In Greater Minnesota, contact the MPCA office nearest your county.
In the Twin Cities area: