Image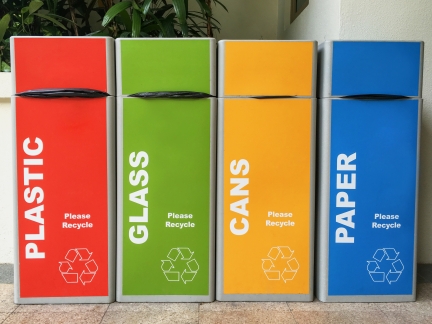 Many commercial buildings in Anoka, Carver, Dakota, Hennepin, Ramsey, Scott, and Washington counties are required to recycle at least three of the following materials:
Glass
Metal
Plastic
Paper: office paper, cardboard, newspaper
Organics: food waste and non-recyclable paper
Less common materials specific to your business, such as textiles
This requirement applies to commercial buildings with:
Contracts for weekly collection of four or more cubic yards of trash
One or more businesses classified in sectors 42 to 81 of the North American Industrial Classification System (NAICS code). Some examples of businesses that must recycle:

Arts, entertainment, and sports venues
Hotels
Multi-family housing
Education and health care
Retail stores
Professional offices
Restaurants and bars
Religious organizations
Transportation, warehouses, and wholesalers
Nearly 75% of what Minnesotans throw in the trash could be recycled. Increased commercial recycling is an essential component of meeting state recycling goals. In addition, recyclables or organics are not taxed in Minnesota, but there is a 17% tax applied to commercial trash. Many counties charge additional taxes or fees as high as 53% on trash, but not on recyclables or organics. Increasing recycling and reducing trash provides a significant money-saving opportunity for commercial buildings. Less trash also means you could save on your hauling fees by getting a smaller bin. Call your hauler to discuss reducing your dumpster size or service frequency.
Resources