Image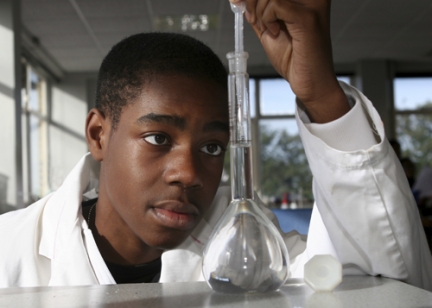 Green and safer product chemistry is formulating or designing a new product (or reformulating an existing one) to reduce harmful environmental, workplace, human health, and energy use effects over the product's entire life cycle. A product's life cycle includes design and manufacture, sourcing and production of material and energy inputs, end use, end-of-life recovery, and all packaging and transportation between these steps.
Product chemistry should take into account green and sustainable chemistry and green engineering principles, which include preventive approaches, designing out toxicological effects (including at the molecular level), energy and water consumption during production and use, and recyclability.
Green chemistry and design represents a high-level commitment to pollution prevention. It's more common for product makers to reduce pollution in the manufacturing process than to redesign the products themselves. But the product design stage is critical to reducing a product's environmental impact. Learn more:
From products to the environment
Some 90% of the products we use contain one or more chemicals, such as paints, dyes, fragrances, lubricants, germ-killers, preservatives, cleaners, adhesives, solvents, water and stain repellents, or flame retardants. Many of these find their way into our environment and our bodies, where they can disrupt ecosystems and health. Learn more:
Through the Chemicals in Products Interagency Team, the MPCA partners with the Minnesota Departments of Commerce and Health to:
monitor chemical hazards in products and the environment
educate residents and businesses about chemical hazards and how to avoid them
accelerate the development and use of safer alternatives
Green and safer product chemistry grants
Internship grants
The MPCA periodically offers internship grants to businesses to help advance green chemistry and engineering practices at a Minnesota location. The grant funds an intern, who works with a mentor in the recipient organization for 10 to 12 weeks in the summer, or longer by mutual agreement. The host organization and intern both gain experience in improving product or component chemistry.
2023 host site. The awardee – contingent upon execution of a grant agreement – is Healthy Building Network (HBN). HBN, a not-for-profit, nongovernmental organization based in Minnesota, operates the Pharos system of chemical hazard data tools, which enable product makers to investigate hazards of current product chemistries and find safer alternatives.
The project planned is for the intern to learn HBN's data tools, identify data gaps in the system, add new data sources and/or features, populate compound groups so users can avoid substitutions with chemicals with similar hazards, and to generate related resources.
Examples of possible grant projects:
comparing life-cycle effects of candidate materials
safety and performance testing of alternative materials or designs
assessing the supply and cost of new materials, with design, manufacturing, and cross-functional teams
cataloging suppliers' safety data sheets and certifications for sustainable purchasing initiatives
auditing internal and supply chain compliance with chemical regulations
performing hazard and alternatives assessments
supporting sales and marketing of reformulated products
Previous recipients
Internship grants have advanced several initiatives:
Healthy Building Network was awarded the 2022 internship grant to improve their Pharos system of chemical hazard data tools, add new data sources and/or features, populate compound groups so users can avoid substitutions with chemicals with similar hazards, and to generate teaching resources for students and professors.
St. Paul-based Claros Technologies is developing novel methods to capture and detoxify per- and polyfluoroalkyl substances (PFAS), a notoriously difficult-to-treat class of chemicals. Claros hired Conor Broderick, a recent graduate of Macalester College, to assist with this work.
At St. Paul-based Sasya, intern Colin Pierce, a doctoral candidate in biochemistry at the University of Minnesota, helped develop fermentation biocatalysts that convert feedstocks into nutritional supplements for livestock. The company was working to create a process that will displace petroleum derivatives and energy-intensive catalysis, use sustainable resources, and generate no byproducts.
College curriculum grants
The MPCA occasionally offers grants for development of green chemistry and design curricula at post-secondary institutions in Minnesota. The grants also help strengthen Minnesota and national networks of post-secondary faculty teaching green chemistry principles.
The MPCA recently awarded Augsburg University more than $14,000 for a project to be completed by mid-2023. Project goals include developing new green chemistry materials for introductory courses and a new green chemistry course, culminating in a new green chemistry and toxicology curriculum.
Resources