When stormwater drains off a construction site, it carries sediment and other pollutants that can harm lakes, streams, and wetlands. The U.S. Environmental Protection Agency estimates that 20 to 150 tons of soil per acre are lost every year to stormwater runoff from construction sites. MPCA issues coverage to construction site owners and their operators under the Construction Stormwater general permit to prevent stormwater pollution during and after construction, and protect Minnesota's water resources.
New construction stormwater permit
Effective August 1, there is a new NPDES/SDS stormwater permit for construction activity. The permit is re-issued every 5 years by the MPCA. 
The draft permit generated several hundred comments from 45 separate individuals or organizations. Many of the proposed changes shown in the draft permit were incorporated into the final permit in addition to suggestions by commenters. A "red-lined version" of the final permit highlights where the language has changed.
The MPCA appreciates the input from permittees. We value the public process and believe it leads to better regulations.
Who needs a permit?
You need permit coverage if you are the owner or operator for any construction activity disturbing:
one acre or more of soil.
less than one acre of soil, if that activity is part of a larger "common plan of development or sale" that covers more than one acre.
Common plan of development or sale
A common plan of development or sale — such as a subdivision, phased project, or combination of construction activities — is an area where multiple, contiguous, separate land-disturbing activities may happen on different schedules, but under one proposed plan.
Check if you need construction stormwater subdivision registration from the MPCA before construction begins. If a portion of a permitted project is sold, such as a single lot in a residential development, use the subdivision registration form (see table below) to transfer permit coverage to the new owner/contractor. This process allows a single permit covering an entire site to be broken up or "subdivided" to cover many different builders and sites.
Examples of common plan of development activities that require permit coverage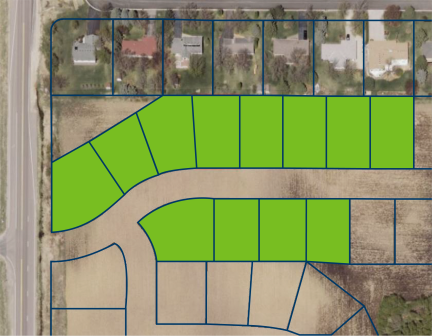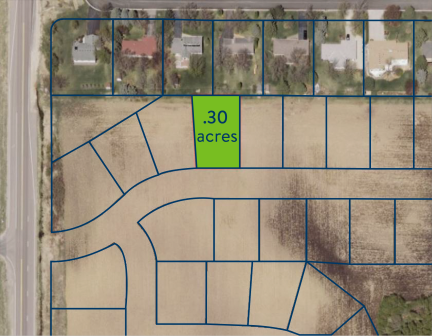 Apply for coverage
See the Steps to construction page for full details on what to do before you apply. Apply for construction stormwater permit coverage online. For assistance:
Reminder: All required wetland permits or determinations must be complete before application.
Permit and program forms
Permit/application
Summary
Instructions and fact sheets
Permit number MNR100001, issued Aug. 1, 2023

Complete and submit online. Permit coverage will begin one business day after submitting a complete application.

See "Getting started with MPCA e-Services" above.

Construction stormwater permit FAQs

If the project is located on tribal lands, you will need to obtain permit coverage from the U.S. Environmental Protection Agency.

For modifying information provided on the original application, including site name, location, acreage, receiving waters, and project dates.

For transferring permit coverage on a portion of a site already covered by the permit

See Guidance for stormwater permit forms above

For transferring permit coverage for an entire site to a new owner or contractor

See Guidance for stormwater permit forms above

Notice of termination

For terminating permit coverage

Permit terminations must be done electronically using e-services.
If you are new to this process, refer to this guidance document:
Special waters and impaired waters
NPDES/SDS permits for construction sites with a discharge point that flows towards, and is within one mile (aerial radius measurement) of specially protected and impaired waters require additional controls and conditions as outlined in section 23 of the General Stormwater Permit.
Use this map to identify special or impaired waters with one mile of your construction site:
Construction stormwater compliance staff
The MPCA provides technical assistance to help construction site owners and managers meet environmental requirements. Contact the compliance staff for your area for assistance.
| Name | Phone | Email | Counties served |
| --- | --- | --- | --- |
| Madison Irons | 218-316-3923 | madison.irons@state.mn.us | Beltrami, Cass, Clearwater, Crow Wing, Hubbard, Kandiyohi, Lake of the Woods, Meeker, Morrison, Stearns, Todd, Wadena |
| Jim Dexter | 218-302-6632 | james.dexter@state.mn.us | Aitkin, Benton, Carlton, Chisago, Cook, Isanti, Itasca, Kanabec, Koochiching, Lake, Mille Lacs, Pine, St. Louis |
| Angie Gandini | 507-344-5240 | angie.gandini@state.mn.us | Blue Earth, Brown, Cottonwood, Jackson, Le Sueur, Lincoln, Lyon, Martin, Murray, Nicollet, Nobles, Pipestone, Redwood, Rock, Scott, Watonwan |
| McKenna Rodine | 651-757-2203 | mckenna.rodine@state.mn.us | Dakota, Goodhue, McLeod, Rice, Sherburne, Wabasha, Wright |
| Josh Norman | 651-757-2389 | josh.norman@state.mn.us | Anoka, Carver, Hennepin, Ramsey, Renville, Sibley, Washington |
| Brian Green | 507-206-2610 | brian.green@state.mn.us | Dodge |
| Matt King | 218-846-8103 | matthew.king@state.mn.us | Becker, Big Stone, Chippewa, Clay, Douglas, Grant, Kittson, Lac qui Parle, Mahnomen, Marshall, Norman, Otter Tail, Pennington, Polk, Pope, Red Lake, Roseau, Stevens, Swift, Traverse, Wilkin, Yellow Medicine |
| David Bodovinitz | 507-206-2654 | david.bodovinitz@state.mn.us | Faribault, Fillmore, Freeborn, Houston, Mower, Olmsted, Steele, Waseca, Winona |