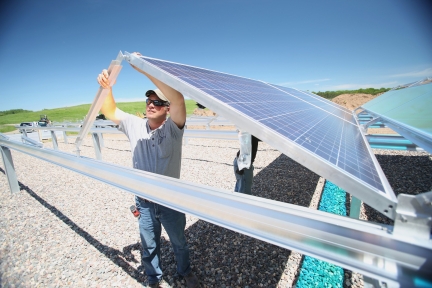 The Closed Landfill Program (CLP) exists to maintain certain mixed municipal waste landfills in the state over the long term. Closed landfills must be monitored and managed in perpetuity to protect the environment and human health; they produce contaminated fluids (leachate) and gases that must be managed properly to avoid polluting groundwater or affecting nearby structures. Maintenance activities often include installing new covers that prevent the waste from polluting groundwater. When properly maintained, these closed landfills can host pollinator plantings and solar panel installation. There are currently 111 closed landfills in the program, but it's able to accept up to 114 sites.
The Minnesota Legislature created the CLP to provide resources to manage closed landfills without using the complex legal-liability framework of the Superfund process. Superfund laws use a "polluter pays" model to manage and clean up contaminated sites. But the process is burdensome in dealing with closed municipal landfills, where the "responsible parties" may be hundreds of businesses and waste haulers, and thousands of residents. The CLP uses mostly tax dollars to manage closed landfills, because virtually all Minnesotans create trash.
Once landfills are enrolled in the CLP, the MPCA is responsible for their long-term care. The agency contracts with businesses to perform many services, including mowing, sampling and analysis, operating gas and groundwater treatment systems, and leachate collection and disposal. The agency is charged with:
assessing contamination at CLP sites and addressing any issues.
maintaining systems that control gases and leachate.
monitoring around sites for groundwater contamination. Currently, the CLP takes samples in more than 2,750 monitoring wells, surface waters, springs, and other locations.
implementing projects that mitigate risk to the environment and the public.
working with local governments on appropriate uses of land on the sites.
communicating with local governments and the public about projects and issues at CLP sites.
The MPCA evaluates the risk that closed-landfill sites pose to human health and the environment to guide its cleanup work. The evaluation helps determine what actions must be taken on the site, including further investigation, constructing new landfill liners and covers, installing gas vents, and drinking water protection work. Other factors, such as available resources, also affect when projects are implemented.
Land use at closed landfill sites
Once a landfill is closed and a cover installed over the waste, it can just look like an open field. But there are limited ways to use land safely when there is waste buried underneath. The CLP develops land use plans as part of managing the 8,500 acres in the program. General authority for land-use planning lies with Minnesota's local governments (cities, counties, and townships) and tribal authorities, but for closed landfill sites, local government plans must be consistent with the MPCA's land-use plans.
Each land use plan:
ensures that uses of the property don't disturb the landfill's infrastructure and remediation equipment, and are appropriate given the risks at the site.
provides information, including maps, about how surrounding property may be affected by groundwater and/or surface water contamination and gas migration.
Solar development
In 2019 the Environmental Quality Board (EQB) received funding from the Minnesota Legislature to study the feasibility of utilizing sites in MPCA's Closed Landfill Program for solar energy development. The potential for solar development provides an exciting possibility for repurposing contaminated land to generate green energy, shrink our carbon footprint, and foster economic development. However, there are also barriers to solar development. Learn more:
Solar arrays have been installed at two closed landfill sites — Lindenfelser Landfill (St. Michael) and Washington County Landfill (Lake Elmo) — and are now powering onsite systems for gas extraction and leachate collection.
Pollinator habitat
In 2019, Governor Walz signed Executive Order 19-28, which included a directive to the MPCA to "manage closed landfills under its supervision to create, protect, and enhance pollinator habitat."
The CLP's pollinator strategy has three goals:
Improve pollinator habitat on closed landfill sites.
Reduce effects on pollinators from use of herbicides and other chemicals on CLP sites.
Promote the CLP pollinator strategy and share pollinator projects on the program's sites.
Improving pollinator habitat and decreasing the amount of chemicals we spray will benefit pollinators and other insects, mammals, and birds.
Funding
The MPCA currently estimates that it will need $309 million through fiscal year 2050 to meet financial obligations in the Closed Landfill Program. Stable, long-term funding is needed to address the public health and environmental risks posed by closed landfills. The program depends on three funding sources:
Remediation Fund
General obligation bonds for larger construction projects
Closed Landfill Investment Fund, established by the Legislature in 1999 to maintain CLP landfills
Learn more: