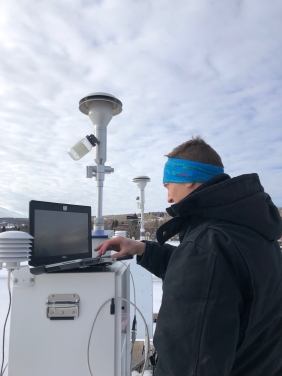 At more than 50 locations around the state, the MPCA's air monitors continually measure pollutants to help improve and protect outdoor air. With this data, the agency can track pollution trends over time and show if outdoor air meets air quality standards and health benchmarks.
The Air Monitoring Network Plan summarizes the MPCA's primary air monitoring activities, proposes changes for the upcoming year, and assesses whether sites meet federal and state air quality standards.
Public inspection period: The 2024 Air Monitoring Network Plan for Minnesota is available for public inspection and comment through June 22, 2023. If you would like to receive a hard copy of the report or submit comments, please refer to the instructions.
Current plan:
Air modeling
Air models predict pollution levels in areas that don't have an air quality monitor or for pollutants that are difficult to monitor. The MPCA uses these models to set appropriate emission limits for facilities, study the regional transport of pollution across state borders, and forecast future air quality in Minnesota.
The MPCA also uses air models to forecast air quality and air quality alerts. See the current forecast on the current air quality page.
Targeted air monitoring
The MPCA conducts targeted monitoring to understand how air quality is affecting specific communities. This can help us learn more about and address the disproportionate impacts of pollution on certain areas.
In 2013, the Minnesota Legislature funded a study to monitor air quality in Minnesota communities where people with low incomes and communities of color might be disproportionately impacted by pollution from highway traffic, air traffic, and industrial sources. These are areas of potential concern for environmental justice.
Communities are monitored for three to twelve months, after which the monitoring equipment was moved to the next site. The project's goal is to determine if there are significant differences between the community monitor locations and MPCA's existing stationary monitors.