Image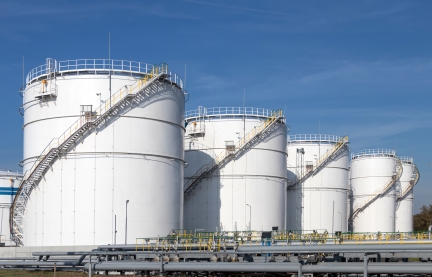 Facilities with one or more aboveground storage tank (AST) with a total capacity of one million gallons or more must obtain a major facility permit from the MPCA. The permit specifies required spill and leak prevention, detection, and containment measures, such as tank inspections, tank floor design, visual monitoring, leak detection, overfill prevention, secondary containment areas, and piping design, testing, and inspection.
The 77 permitted AST major facilities in Minnesota represent just three percent of AST facilities in the state, but comprise 15 percent of Minnesota's aboveground storage tanks and 85 percent of the total liquid storage capacity (more than a billion gallons). Major AST facilities are found in petroleum refining and marketing, chemical manufacturing and storage, public power production, ethanol plants, mining, sugar beet production, soybean processing, and pulp and paper mills.
Permits
New permits
When the construction of one or more AST will increase a facility's liquid storage capacity to one million gallons or more, the owner must apply for an AST major facility permit from the MPCA. The permit must be issued prior to installing or constructing the new AST(s) or any associated structures, such as containment areas and piping. The MPCA reviews the design of a proposed tank system as part of the permitting process, to ensure it is adequate to protect the environment. Contact the MPCA to discuss appropriate tank and piping design prior to submitting a permit application.
The MPCA strives to issue permits within 90 days. The MPCA will seek public comments on an AST major facility permit if the permittee requests it or the permit is controversial. The permit expires after 10 years.
Reissuing or modifying permits
To renew an AST permit, submit a reissuance application at least 90 days before the expiration date. If the MPCA receives a reissuance application but has not reissued the permit before the expiration date, the permittee may continue to operate under the expired permit.
Certain actions, such as constructing a new field-erected tank or changing the substance stored in a tank, require MPCA approval through a permit modification. A permittee may also request to modify other terms and conditions of their permit. The modifications are processed by the MPCA as a permit reissuance. In addition to the permit change they are requesting, permittees must submit complete information for all tanks at the facility. If the modification request is for construction of tanks or associated structures, the permit must be issued before construction work begins.
Apply online
Apply for AST permit through MPCA's e-Service portal.
First create an MPCA e-Services user account:
Get detailed help: Getting Assistance: Aboveground Storage Tank Permit page
Start an application — After logging in, use the Configure Services button on the My Workspace tab, Service Selection section to add the Aboveground Storage Tank Reissuance Service (choose this for permit issuance as well).
Identify your facility — Enter the facility ID number on the My Workspace tab, My Facilities section. You can also search by facility name. Check the default facility information to ensure the correct facility is selected. A proposed new facility will not appear in the MPCA database. Contact the MPCA to obtain a facility ID number.
Authorized users — Anyone authorized by the permittee, including consultants, may use the service. Multiple users may work on the permit using the Sharing tool. Each user will need a separate account. The user who certifies and submits the e-Services application must be part of tank owner's management and assigned the facility access type of "aboveground storage tank signatory."
Permit modifications — For a modification being processed as a reissuance, the company must attach a description of the requested change to the application.
Tank system design approval — The design of new field-erected tanks or underground piping in new or modified permit applications must be reviewed by the MPCA. Attach a design form to the application:
Environmental review
If the applicant is constructing a new field-erected tank or tanks of one million gallons or more total capacity, which will store a hazardous substance, an environmental review pre-screening form must be attached to the application. Learn more: Environmental review