Image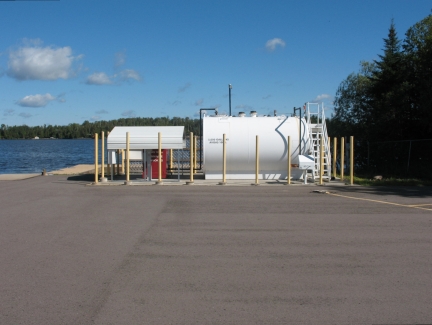 Aboveground storage tank (AST) requirements are found in Minnesota Rules, Chapter 7151. In general:
New tanks and piping must be designed to applicable industry standards and guidance.
Tank upgrades and repairs must follow applicable industry standards.
Tank owners must clearly label all tanks and piping.
Underground storage tanks (USTs) of any size cannot be used as ASTs.
When an older tank is moved to a new facility, the tank must be upgraded and the tank integrity verified.
Piping connected to a regulated tank that is two inches or greater in diameter must be cathodically protected, double-walled, or located entirely above ground to protect against corrosion. Buried piping must be tested annually for leaks.
Recordkeeping
Owners of regulated ASTs larger than 1,100 gallons must keep records on system design, containment area evaluation, tank monitoring, and tank inspections.
Spill prevention and preparedness
The U.S. Environmental Protection Agency requires non-transportation-related facilities with a total aboveground oil storage capacity of greater than 1,320 gallons to meet spill prevention, control, and countermeasure (SPCC) requirements. Both petroleum and non-petroleum oils (e.g., vegetable oil) are subject to the requirements. Other federal requirements relate to spill response and spill reporting.
Minnesota law requires that facilities with hazardous substance or petroleum ASTs with greater than 10,000 gallons capacity have a spill plan addressing release prevention and spill response.
Secondary containment
All ASTs must be surrounded by a secondary containment area capable of holding 100 percent of the contents of the largest tank, and an additional 10 percent capacity where the area is exposed to precipitation. Double-walled tanks satisfy the secondary containment requirement. Acceptable materials for secondary containment depend on the tank's date of installation, and in some cases, the type of substance stored and hydrogeologic characteristics of the site. Clay and earthen containment areas must be tested to meet a maximum acceptable permeability rate.
Monitoring
All tanks must have a leak detection system. Acceptable systems include:
double-walled construction with interstitial monitoring
elevated tank
impermeable barrier underneath the tank (concrete pad or synthetic liner)
underfloor vapor monitoring
monthly inventory reconciliation
statistical inventory reconciliation
All tanks must be routinely monitored to ensure they are not leaking. Weekly checks are required where the secondary containment area is made of impermeable material such as concrete. For any other containment design, checks are required every 72 hours. All tanks, piping, and containment areas must be visually inspected monthly. Field-erected tanks and internal tank floor liners that don't have corrosion protection have specific monitoring requirements.
Corrosion protection
Steel ASTs with capacity more than 1,100 gallons must be protected from corrosion. Corrosion protection options include:
elevating tank above the ground
tank placed on continuous concrete slab designed to prevent water accumulation around or under the tank
double-walled tanks
cathodically protecting and internally lining tank floors
cathodically protecting and internally inspecting according to American Petroleum Institute (API) Standard 653 protocol
internally lining and internally inspecting according to API Standard 653 protocol
All lines or piping connected to the tank must be double-walled, located aboveground, or cathodically protected. Also, all underground lines must be tested for leaks annually. Learn more:
Substance transfer
Areas where substances are transferred between vehicles (tanker trucks or rail cars) and aboveground tanks must be equipped with spill containment. Facilities with petroleum ASTs of 2,000 gallons or more capacity have additional requirements.
Overfill protection
Most ASTs owners must have procedures or equipment to prevent overfills during tank loading. With a few exceptions, tanks filled with more than 55 gallons at one time need to have one of the following systems:
high-level alarm
automatic shut-off
permanently-mounted site gauge during fueling
manual sticking of the tank during product transfer
The only overfill protection allowed for a double-walled tank that doesn't have additional secondary containment is a high-level alarm or automatic shut-off device. In all other cases, the overfill protection option is based on tank age and secondary containment design.
Small tanks near surface water
Tanks that are between 500 and 1,100 gallons in capacity and located within 500 feet of a lake, river, or other surface water used for recreation, must meet labeling and secondary containment requirements.
Lower-risk materials
Other registered substances and asphalt cement
Some tanks hold products that are not hazardous materials or petroleum, which are considered "other regulated substances." Examples include corn and soy oil, beet molasses, ethyl alcohol, paper pulp, waxes, and calcium chloride. The tanks have limited regulations because other regulated substances pose lower risks to people and the environment. Another such lower-risk material is asphalt cement, which is defined as a mixture of bituminous from native deposits or a petroleum by-product used for roofing or paving that is solid at 100 degrees F or lower.
Other regulated-substance and asphalt cement ASTs must have labeling and secondary containment, and are subject to monitoring weekly and during product transfer. They do not require leak detection, corrosion protection, substance transfer area safeguards, or overfill protection. Also, when an AST that stored only asphalt cement or #6 fuel oil is removed, it's not necessary to test for contamination in the soil below it.
Field-erected tanks
Inspections are critical for tanks that are constructed on-site (called field-erected tanks) to identify corrosion and other maintenance problems that could lead to tank failure. Most field-erected steel tanks must be inspected regularly in accordance with American Petroleum Institute (API) Standard 653. Inspection type and frequency varies with the tank's design, contents, and installation date. AST permits require that the API 653 Inspection Summary form be submitted to the MPCA after an inspection.
Inspections must be performed by a person trained and certified as an API 653 authorized inspector.
MPCA does not endorse any of the companies on the list.
Approving alternatives
Tank owners may petition the MPCA commissioner to approve an alternative design or operating procedure for a tank, such as use of a new technology, that achieves the same result as a specific rule requirement.