Excessive nutrients, particularly phosphorus and nitrogen, pose a significant problem for Minnesota's lakes and rivers, as well as downstream waters including the Great Lakes, Lake Winnipeg, and the Gulf of Mexico. Nutrients are important for human and aquatic life. However, when levels exceed normal conditions, they can cause excessive algae growth, low levels of oxygen, toxicity to aquatic life, and unhealthy drinking water.
Minnesota Nutrient Reduction Strategy
Nutrients come into lakes and rivers primarily from agricultural and urban lands, and in discharges from wastewater treatment facilities. The Minnesota Nutrient Reduction Strategy outlines how Minnesota will reduce nutrient pollution in its lakes and streams and limit impacts downstream.
The strategy calls for reducing nutrient levels in major rivers by 10-20% by 2025 from 2014 levels, with much higher reductions by 2040.
The MPCA has developed estimates of how much the nutrient load must be reduced in each watershed to lower Minnesota's nutrient contribution to waters outside of the state. The information will help determine which and how many management practices are needed achieve nutrient load reductions.
Image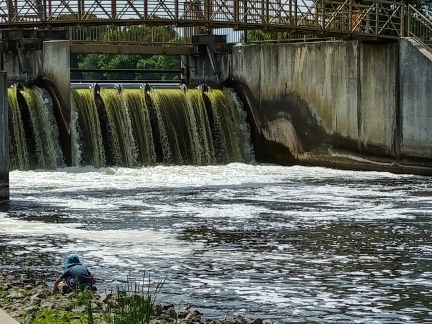 Five-year progress report
How is Minnesota doing on implementing the strategy to reduce nutrient pollution? This 2020 report by Minnesota state agencies examines progress in three main areas.
Water quality trends in past two decades – Phosphorus concentrations are down but nitrogen concentrations are up. However, significantly higher rainfall in recent years has resulted in increased runoff that offsets progress made in reducing phosphorus and further increases nitrogen levels.
State-level programs – Minnesota has advanced more than 30 large-scale programs in the past five years to reduce nutrient pollution, but more time is needed to see results.
Changing practices at pollution sources – While wastewater treatment has helped reduce phosphorus levels and new practices were implemented on hundreds of thousands of acres of cropland, there is still a great deal of work to do in both urban and rural areas.
Tracking BMP progress
A data tool helps illustrate progress in adopting best management practices for nutrient reduction around the state, through state and federal government programs.