Image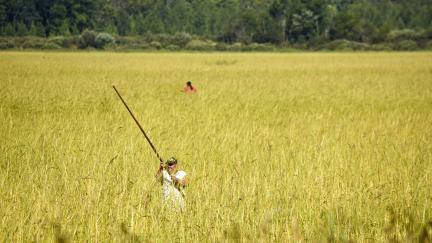 Wild rice is an important part of the ecosystem in many Minnesota lakes and streams. Wild rice is also a cultural resource to many, particularly members of Minnesota's Dakota and Ojibwe tribal communities, and is an important economic resource to those who harvest and market it.
In 1973, Minnesota adopted a sulfate standard to protect wild rice based on studies showing that wild rice was found primarily in low sulfate waters.
The MPCA sponsored studies on how sulfate affects wild rice. Research projects — including a field survey, laboratory experiments, and mesocosm (pot) experiments — began in 2012 and were completed by December 2013, and produced several research papers. Based on these studies MPCA found: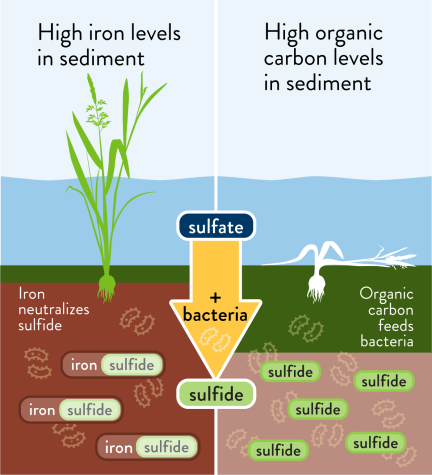 In the sediment in which wild rice is rooted, sulfate from the water above is converted to sulfide by bacteria.
Higher levels of sulfide in the sediment create an environment that is less hospitable to wild rice.
However, certain factors change the rate at which sulfate is converted to sulfide. Most significantly, higher levels of iron can lead to less sulfide, and higher levels of organic carbon can lead to more sulfide.
To take these variables into account, the MPCA developed an equation that can determine a sulfate level that will protect wild rice for a specific water body. The agency proposed to amend the 1973 water quality standard to include this new equation, and to specifically identify waters to which the standard should apply, based on information compiled into a database.
The MPCA subsequently withdrew its proposal to change the water quality standard designed to protect wild rice from adverse impacts due to sulfate pollution.
Implementation
The 10 mg/L sulfate standard is designed to protect a specific beneficial use — the use of the wild rice grain as a food source for humans and wildlife. The standard applies in specific waters called "waters used for production of wild rice."
The MPCA has preliminarily determined a list of approximately 2,400 waters that can reasonably be considered waters used for production of wild rice. This list was developed based on reviewing multiple sources of information — including various inventories, biological monitoring, and survey databases — to determine where the wild rice beneficial use has been or could be attained.
On May 24, 2023, a webinar was held for representatives from facilities with NPDES/SDS permits that are potentially upstream from wild rice waters.
The MPCA is continuing to work with public and state, local, federal, and tribal partners to develop ways to protect this important Minnesota resource, through implementation of the long-standing 10 mg/L standard in monitoring, assessment, and permitting. Additional implementation information will be provided on this page as plans are developed.
Impaired waters
In 2021, the EPA added 32 bodies of water that are capable of producing wild rice to Minnesota's 2020 Impaired Waters List due to sulfate levels above 10 ppm. For the 2022 list, the MPCA added three more as impaired, for a total of 35.
More information
Modeling hydrologic controls on sulfur processes in sulfate-impacted wetland and stream sediments, Ng, G.- H.C., A.R Yourd, N.W. Johnson, and A.E. Myrbo. 2017, Journal of Geophysical Research: Biogeosciences, 122, doi:10.1002/2017JG003822.
 Myrbo, A., Swain, E. B., Engstrom, D. R., Coleman Wasik, J., Brenner, J., Dykhuizen Shore, M., … Blaha, G. (2017). Sulfide generated by sulfate reduction is a primary controller of the occurrence of wild rice (Zizania palustris) in shallow aquatic ecosystems. Journal of Geophysical Research: Biogeosciences, 122, 2736– 2753.
Pollman, C.D., E.B. Swain, D. Bael, A. Myrbo, P. Monson, and M. Dykhuizen Shore. 2017. The evolution of sulfide in shallow aquatic ecosystem sediments – an analysis of the roles of sulfate, organic carbon, iron, and feedback constraints using structural equation modeling. Journal of Geophysical Research: Biogeosciences. 122. https://doi.org/10.1002/2017JG003785
Myrbo, A., E. B. Swain, N. W. Johnson, D.R. Engstrom, J. Pastor, B. Dewey, P. Monson, J. Brenner, M. Dykhuizen Shore, and E.B. Peters. 2017. Increase in nutrients, mercury, and methylmercury as a consequence of elevated sulfate reduction to sulfide in experimental wetland mesocosms. Journal of Geophysical Research: Biogeosciences. https://doi.org/10.1002/2017JG003788
Pastor, J., B. Dewey, N. W. Johnson, E. B. Swain, P. Monson, E. B. Peters, and A. Myrbo. 2017. Effects of sulfate and sulfide on the life cycle of Zizania palustris in hydroponic and mesocosm experiments, Ecological Applications, 27, 321-336.