As a boy, James Wooton lived near the ocean.
"I was always taught to respect the life there," says Wooton. "And that's stuck with me my entire life."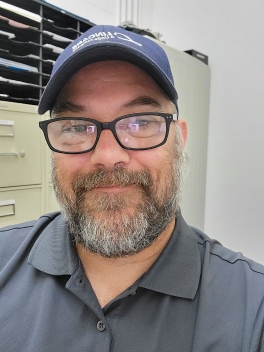 After moving to Minnesota in the early 1990s, Wooton began scuba diving in the lakes of Otter Tail County. Otter Tail boasts the most lakes in a single county in the entire nation — 1,048 of them — and is home to watersheds including the Otter Tail River, Pomme Terre River, and Redeye River. Most water bodies in the county support healthy fish and aquatic insect communities.
Despite the water being in good shape, a scuba diver like Wooton had a front row seat to changes happening in the water.
"What I was seeing as a child — mussels and clams, everything — it really is gone," he says. "All you see are giant clumps of razor-sharp zebra mussels now." 
Zebra mussels, an aquatic invasive species, were first found in Pelican Lake in 2009 and spread to downstream and neighboring lakes by the movement of boats, docks, and boatlifts. What Wooton saw prompted him to meet up with a zebra mussel biologist, who introduced him to University of Minnesota's AIS Detectors program. 
"I joined that, and ever since then, every time I go on a dive I am inspecting the lake for invasive species," Wooton says.
Ten years ago, Otter Tail County started its own Aquatic Invasive Species (AIS) Prevention Program. At first, only 50% of watercraft arriving at public water access arrived with their drain plugs removed (a key strategy for preventing the spread of invasive species). Now, the average drain plug compliance rate across the state is 95%.
Because of dedicated volunteers like Wooton, and the education provided by the Otter Tail County AIS program, the spread of invasive species is slowing. The program is working, and this is great news for Otter Tail County lakes!
We Are Water MN celebrates the many lakes of Otter Tail County and highlights ways to protect them
Wooton shared his story as a part of We Are Water MN, a traveling exhibit and community engagement program that explores Minnesotans' relationships with water. Otter Tail County is hosting the exhibit and related programming in partnership with the Fergus Falls Public Library and Otter Tail Lakes Country Association.
You can listen to Wooton's story — and other local stories — in the exhibit. The exhibit also explores water challenges Otter Tail County faces and the ways that local community members are working together to restore and be stewards of the many water bodies that make the county unique.
Visit the exhibit now through October 10 at the Fergus Falls Public Library (205 E. Hampden Ave., Fergus Falls, MN 56537). It is open Monday, Tuesday, Wednesday, and Thursday (9 a.m. to 8 p.m.), Friday (9 a.m. to 6 p.m.), and Saturday from 9 a.m. to 1 p.m. (9 a.m. to 4 p.m. in October). Admission is free.
Special events
Together with community partners, Otter Tail County has been providing a variety of programming related to the exhibit. Their events have included:
"Precious Plastic" We Are Water Pop-Ups: At eight community events across the county, participants learned about recycling with the Precious Plastic Lab by injecting a plastic water drop shape using waste plastic. The plastic water drops were used to create an art installation celebrating water in Otter Tail County, which will be on display at the We Are Water MN exhibit.
PaddleFest: Participants brought their own kayaks and canoes and explored the Otter Tail River State Water Trail.
A Year of Water Photo Contest: Otter Tail Lakes Country Association hosted a water-themed photo contest for community members. The 12 winners will be added to a 2023 We Are Water calendar.
East and West Otter Tail County Fairs: Activities included free nitrate testing of well water, Soil and Water Conservation District staff sharing information on SWCD programs and services, a DNR specialist demonstrating water erosion, and We Are Water MN-Otter Tail County committee members hosting Water Bars.
About We Are Water MN
We are Water MN is led by the Minnesota Humanities Center in partnership with the Minnesota Pollution Control Agency; the Minnesota Historical Society; the Minnesota Departments of Agriculture, Health, and Natural Resources; and University of Minnesota Extension.
The program is funded in part with money from the Clean Water, Land & Legacy Fund — which was created with the vote of the people of Minnesota on November 4, 2008 — and by the National Endowment for the Humanities.
Share this