Site-specific water quality criteria differ from site-specific water quality standards. A water quality criterion (WQC) may be developed when a toxic pollutant in surface water or fish lacks a numeric standard in Minn. R. 7050.0220, 7050.0222, 7050.0227 or 7052.0100. The MPCA is authorized to develop a numeric WQC that applies specifically to the water body or region where the pollutant is found, using data from that water body or region. The methods for developing WQC are in Minn. R. 7050.0217, 7050.0218 (7050.0219 for human health) and 7052.0110. WQC can be used to determine the status of surface waters (impaired or not) and can be applied in permits and at remediation sites following the procedures in Minn. R. 7050.0218, Subp. 2.
The time to develop and implement a WQC is less than developing a water quality standard (WQS) that applies statewide. A WQC is developed using a smaller dataset specific to the water body or region where the criterion or criteria (e.g., applicable in water and in fish-tissue for highly bioaccumulative pollutants) will be applied, and the public review requirements are less involved than for statewide WQS, which must be adopted and promulgated into Minnesota Rule following Minnesota's Administrative Procedures Act. In addition, WQC do not require EPA approval.
WQC are typically developed when a pollutant is identified in surface water that is of local or regional concern, or in situations where a regulatory limit is needed for permitting or at remediation sites. For example, the MPCA developed WQC for PFOS in 2020 and PFOA and four additional poly- and perfluoroalkyl substances (PFAS) in 2023 that were released in the eastern part of the Twin Cities Metropolitan Area and found in groundwater, drinking water, and the Mississippi River.
General information on the PFAS water quality criteria can be found on our Developing water-quality criteria for PFAS webpage.
Surface waters with per and polyfluoroalkyl substances (PFAS)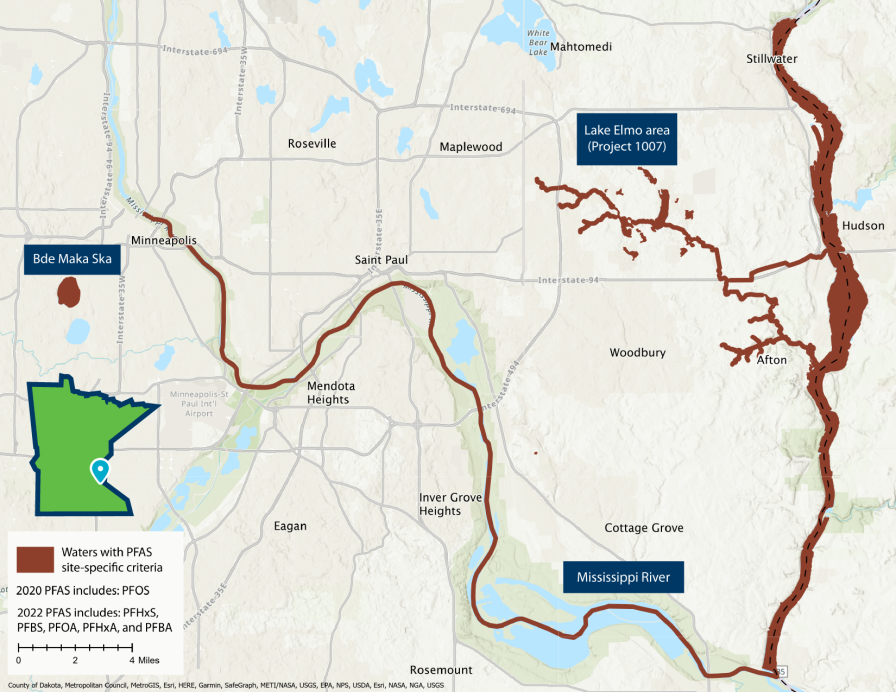 Water-quality criteria for PFAS technical reports
PFOS
PFOA, PFHxA, PFBA, PFHxS, and PFBS
PFOS and PFOA fish consumption rate