Image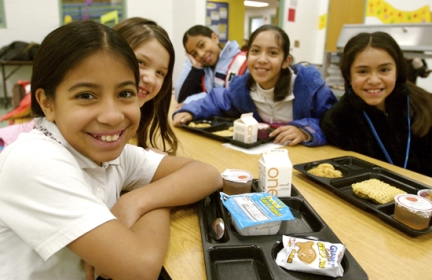 In Minnesota, 2,469 schools serve more than 898,000 K-12 students and employ thousands of teachers and staff. An MPCA study found that Minnesota K-12 public schools generate an estimated 483,520 pounds of waste per day. School administrators can play an important role in boosting recycling and composting at their facilities and reducing the waste going into landfills.
Waste management
Minnesota's Waste Management Act requires public entities such as schools to recycle at least three materials. But it's clear that much more can be done to divert school garbage away from landfills. The MPCA studied school solid waste in partnership with Hennepin County and the City of Minneapolis. By sorting through all the garbage, recycling, and organic material discarded by six schools over a two-day period, the researchers found:
More than 78% of school waste could be diverted from the trash to organics composting and container/paper recycling collection programs.
50% of school waste could be managed via organics composting programs that accept food waste, liquids, and nonrecyclable paper.
The most common material generated by schools was food waste—23.9% of the total waste generated.
Recyclable paper (cardboard, white office paper, and mixed paper) accounted for 23.5% of the total waste generated by schools.
Recycling costs and benefits
An MPCA study evaluated the costs of recycling and trash hauling services — and the impact expanding recycling may have on a school's budget. Almost 150 schools or school districts from 57 of Minnesota's 87 counties participated in the study.
Key findings include:
Many schools have an opportunity to reduce hauling costs by seeking competitive bids from waste haulers on a more frequent or routine basis.
In most cases, having a high-performing recycling program reduces net waste hauling costs for schools since most parts of the state have a lower cost per cubic yard for recyclables than for trash.
Organics recycling is typically more expensive per cubic yard than traditional recyclables, but less expensive than trash. However, some of the gains in hauling costs are offset by costs for compostable bags and foodservice items. So, some schools with organics recycling programs experienced net cost savings while others saw small increases in costs.
Integrating recycling best practices in schools will increase the effectiveness of recycling programs. In most cases, the improved performance will be cost neutral or save the school money.
Suggestions for obtaining recycling supplies for your school:
check with your county solid waste office or your trash/recycling hauler for options
sustainable purchasing using state contracts
Reusable utensils
You might think that purchasing reusable eating utensils and bowls for schools would increase water consumption as well as costs, but Minnetonka Middle Schools (East and West) discovered firsthand that this is not the case. A grant from the MPCA helped replace their disposable utensils and bowls with reusable alternatives. As a result of the switch to reusable items, these schools prevented 6,712 pounds of trash and expect to save $23,000 over three years.
The Minnetonka Middle Schools began by examining what was in their current waste. After separating food waste and recyclables, they found that 70% of the remaining cafeteria garbage was plastic flatware, bowls, wrappers, and bags.
When they switched to reusables, the school added a tub to collect utensils at the waste-sorting stations. Kitchen staff ran an average of 38 dishwasher loads each day before the reusable utensils and bowls. This only increased to 41.5 loads after the switch.
Despite some of the incidental expenses, the Minnetonka Middle Schools saved $3,000 on reusable lunchware, and the annual per-student costs dropped from $6.89 to $4.83.
Resources