Every two years, the Minnesota Pollution Control Agency estimates and reports on the amount of water and air pollution emitted in the state. The agency also estimates the percentage increase or decrease of pollution over the previous two calendar years, and the relative contributions of the various sources of these emissions and discharges to the environment.
Read the report
2018 Pollution Report (lrp-ear-2sy18)
Air pollution trends
The report details statewide emissions of pollutants to Minnesota's air, including criteria air pollutants (pollutants with national ambient air quality standards), greenhouse gases, and other air toxics.
Generally, emissions of all major air pollutants are decreasing. Areas where there may be localized or concentrated emissions from several sources remain a priority.
---
Permitted sources such as power plants and large factories continue to contribute less than 25% to statewide emissions due in large part to government regulation, improved pollution control technology, and switching to cleaner fuels.
---
Most air pollution comes from smaller, widespread sources, including vehicles, small businesses, and construction equipment.
Access detailed information about current and historic emissions for air pollutants. Interactive maps, charts, and data tables.
Water pollution trends
The report provides estimates of surface water discharges from point sources of pollution — primarily municipal and industrial wastewater treatment facilities. The report also describes statewide efforts to reduce nonpoint sources of pollution and efforts to monitor and address contaminants of emerging concern.
Regulatory policies over the past 15 years have led to significant water quality improvements through reductions in phosphorus, total suspended solids, oxygen demand and mercury discharged from wastewater treatment facilities. Phosphorus promotes increased algae growth, suspended solids make waters cloudy, and oxygen is needed to support aquatic life. Mercury is a neurotoxin that can harm wildlife and people who eat fish with unhealthy mercury levels.
---
Nitrogen loads, which are increasing in wastewater discharges as urban populations increase, are also a concern with nonpoint sources in polluted runoff, agricultural tile drainage and vulnerable groundwater below areas of intensive agriculture.
---
Runoff from rainfall and snow melt carries natural and human-made pollutants into lakes, streams, wetlands, and groundwater. These nonpoint sources include runoff from agricultural fields, feedlots, urban areas, and septic systems, posing challenges for prevention and cleanup.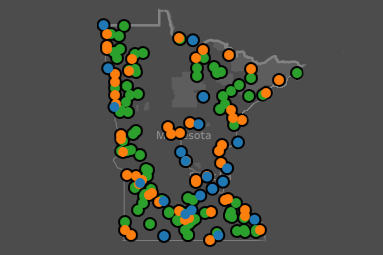 Water pollutant data
Access Watershed Pollutant Load Monitoring Network data. Interactive maps and graphs, and "Download" tabs for exporting tabular data.
For more information
Contact Azra Kovacevic (azra.kovacevic@state.mn.us)