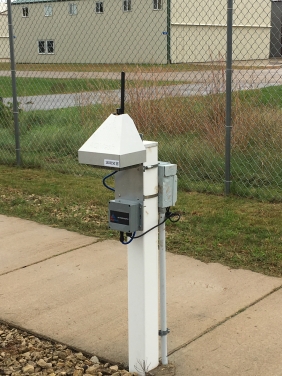 Minnesota's air quality, as measured by the statewide monitoring network the MPCA has operated for many years, is generally good. However, understanding small-scale differences in air pollution in urban areas is important for minimizing exposure to harmful air pollutants, particularly for vulnerable communities.
In addition to the overall goal of understanding small-scale differences in air pollution in urban areas, MPCA scientists hope to better understand and answer these questions:
Are there significant differences in pollutant concentrations between ZIP codes in the urban core?
Are there areas with unusually high pollutant concentrations?
Is this technology suitable for measuring small differences in air quality?
Partners and collaborators included the city of Minneapolis, the city of St. Paul, Minnesota Department of Health, Minnesota State University-Mankato, and Xcel Energy.
Location
Air monitors sampled air quality in all Minneapolis and St. Paul ZIP codes.
Project information
Timeline
June 2021: The project was successfully completed with air monitoring data collected from the installed sites. All equipment from Minneapolis has since been taken down, but the monitors in St. Paul schools will continue to monitor air quality for another year. This is not part of the LCCMR project, but part of a developing partnership with the school science community.
Fall 2021: A final report on findings and trends is available. A series of presentations to interested community members and stakeholders will also be announced after the release of the final report.
June 2020: MPCA completed one year of air quality monitoring at all the installed sites around Minneapolis and St. Paul. Preliminary results of the data collected in the past year and broad trends for the various pollutants were shared with interested community members and stakeholders at a series of meetings in the fall.
Spring 2019: MPCA completed the installation of new air quality monitors at 44 sites in neighborhoods around Minneapolis and St. Paul. Over the next two years, these AQMesh pods monitored and sent back data to the MPCA on the following pollutants: coarse particles, fine particles, ozone, nitric oxide, nitrogen dioxide, sulfur dioxide and carbon monoxide. There was at least one sensor in each ZIP code in Minneapolis and St. Paul. In St. Paul, most were placed on light poles in school parking lots; in Minneapolis they were mounted on Xcel Energy wood street light poles in neighborhoods. 
Public input
Community participation was an important part of this project. In fall 2019, the MPCA held a series of community meetings and got approximately 150 suggestions from residents and city/county officials.