Minnesota Clean Diesel Non-road DERA grant: FY 2018-2019
Diesel fleet owners from private, public, and nonprofit sectors can apply for grants to fund non-road clean diesel projects in Minnesota.
The request for proposals (RFP) has full details on who may apply, grant match amounts, and other information that will help applicants submit a proposal.
Grant proposal submissions are due October 23, 2018.
MPCA anticipates awarding a total of $1.1 million for these grants.
Grants under this RFP are funded by the U.S. Environmental Protection Agency's National Clean Diesel Campaign for clean diesel activities in Minnesota and the Volkswagen settlement.
Minnesota Clean Diesel Non-road Diesel Emissions Reduction Act Grant: FY 2018-2019
Request for Proposals (RFP) FY 2018-2019 (p-f3-80d-fy19)
The RFP assists applicants in applying for and managing state grants. This document describes the Non-road Diesel Emissions Reduction Act (DERA) Grant Program, including information on who may apply for funding, the funding priorities for the 2018-2019 grant round, match requirements, activities eligible for funding, and other information that will help applicants plan their project and submit a competitive application. Applications are due no later than 2:30 p.m. Central Time on Tuesday, October 23, 2018.
RFP Addendum 1 (p-f3-80j-fy19)
This addendum will become part of the Request for Proposal and must be submitted with the Request for Proposal Response. (Sept 19, 2018)
Application form (p-f3-80a-fy19)
Fleet information - construction and rail (p-f3-80b1-fy19)
Fleet information - marine (p-f3-80b2-fy19)
Fleet permission form (p-f3-80c-fy19)
Affidavit of noncollusion (p-f3-80h-fy19)
Other references
Programmatic terms and conditions (p-f3-80i-fy19)
Sample grant agreement (p-f3-80e-fy19)
Project evaluation methods (p-f3-80g-fy19)
Questions regarding this RFP must be e-mailed to grants.pca@state.mn.us, subject line: "DERA Non-road Grant 2018-19," no later than 2:30 p.m. Central Time on October 16, 2018.
Questions and answers will be posted here in this frequently updated FAQ document.
Frequently asked questions (p-f3-80f-fy19)
MPCA personnel are not authorized to discuss this RFP with applicants outside of this question-and-answer forum. Contact regarding this RFP with any MPCA personnel may result in disqualification.
On Sept. 20, MPCA held a training event on the grant RFP and required forms.
DERA background
U.S. EPA allocates funds to states and territories for the establishment of grant, rebate and loan programs promoting clean diesel.
In Minnesota, the Pollution Control Agency has targeted grants on replacing large, older diesel engines that spew a lot of pollution. Changing even one of them to a newer, cleaner-burning model can be the same as taking thousands of cars off the road.
Tough love for old diesels. Part of the DERA grant requirements include disabling the old engine and/or vehicle chassis when they are replaced. A hole must be cut into the old engine block, rendering it inoperative. If an entire truck is replaced, the frame must also be cut to discourage someone from buying it and installing an old high-polluting engine. The grantee can keep vehicle parts and any income from scrapping the engine or vehicle.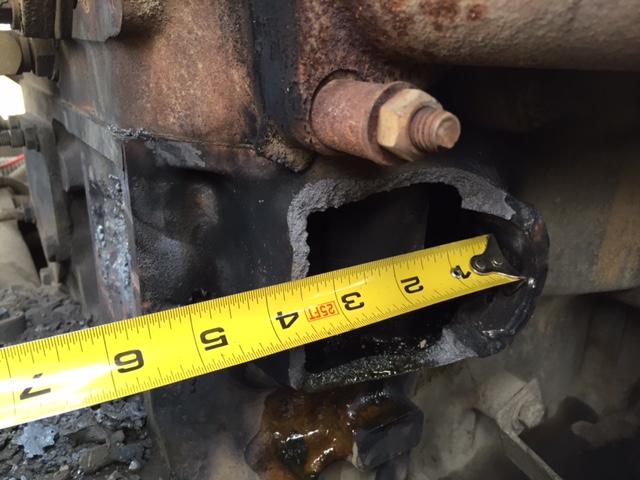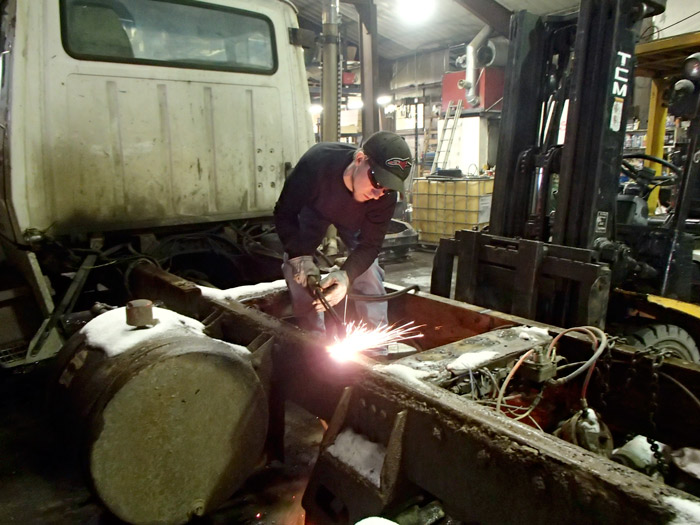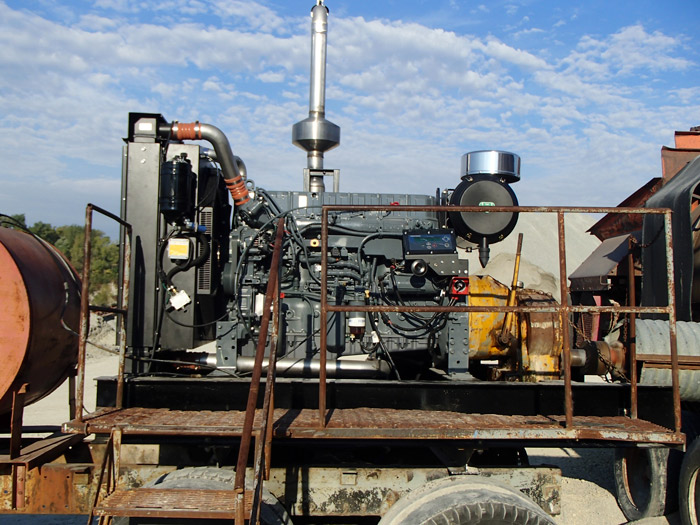 A 3-inch hole made in engine block to permanently retire it.
Cutting the frame permanently retires this old diesel truck.
Rock crusher with new clean diesel engine.
Examples of funded projects. Each round has specific targets and requirements, so potential applicants should review the terms of the current request for grant proposals.