Typically, when people think of sources of air pollution, they think about buildings with big smokestacks like power plants and factories. Only about a quarter of the air pollution in Minnesota comes from smokestack facilities. The rest comes from a wide variety of everyday, neighborhood sources.
Neighborhood sources
We refer to common sources of air pollution such as vehicles, local businesses, heating, and cooling equipment, wood fires, and gas-powered yard and recreational equipment, as neighborhood sources. We are exposed to these sources frequently, sometimes for extended periods. Total emissions from these smaller but widespread emitters are significantly greater than all the industrial sources in the state combined.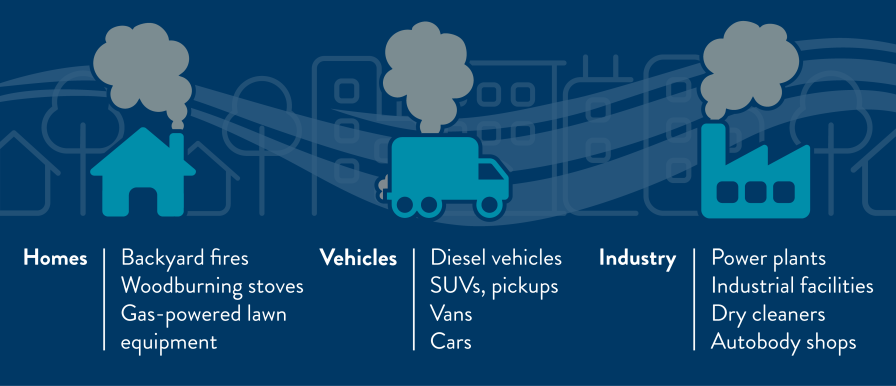 Reducing pollution from neighborhood sources is challenging because they are so prevalent and numerous. Some larger-scale efforts can help. For instance, the EPA or states might require manufacturers to produce lower-emitting equipment. The MPCA provides financial incentives, education, and technical assistance to help reduce pollution from small businesses and others. Much more work is needed to reduce air pollution from neighborhood sources.
Wood smoke
The latest surveys have indicated that residential wood burning has been increasing over time. The majority of wood burned is for home heating, but recreational wood fires are the most common reason people burn wood.
Residential wood burning accounted for 55% of Minnesota's direct fine particle emissions in the most recent emissions inventory. While many other sources of air pollution are declining, the estimated pollution from wood smoke has increased.
Learn more about Reducing wood smoke.
Vehicles and heavy-duty equipment
This category of sources includes cars, trucks, trains, construction and agricultural equipment, boats, snowmobiles, and more. Each one may not pollute much, but together they emit almost half the air pollution in Minnesota.
The federal government has had the largest role to date in reducing vehicle emissions by regulating both car manufacturing and fuel production. Federal regulations require vehicles and equipment to get more efficient and produce less pollution. They also required the removal of lead from gasoline and the reduction of sulfur in diesel fuel, which drastically reduced those pollutants in the air.
At the local and regional level, we can plan land uses and public transit so people can choose to walk, bike, or use buses or trains rather than driving.
Emissions from diesel engines are of particular concern. Diesel engines are the workhorses of our economy because of their power, efficiency, and longevity. But older diesel vehicles and equipment can produce massive amounts of harmful air pollution. An older diesel engine produces over 97% more fine particulate pollution than newer models — levels equivalent to 25 - 30 modern trucks.
Large industrial facilities
Large facilities with smokestacks, such as factories and power plants, must comply with air pollution permits issued by the MPCA. Permitted facilities still make up 21% of the total emissions in the state, but have achieved significant reductions in the past 20 years, thanks in part to the Clean Air Act.
Minnesota's 2006 Mercury Emissions Reduction Act required the largest coal-fired power plants in the state to reduce mercury emissions by 90% from 2005 levels. All Minnesota utilities achieved full compliance by 2015. The changes also brought 75-80% reductions in emissions of haze-forming pollutants and significant reductions in greenhouse gases.
Learn more about emissions from permitted facilities in Minnesota: Permitted facility air emissions data