The environmental justice advisory group (EJAG) advises the MPCA commissioner on the implementation of the agency's environmental justice framework, provides feedback on its effectiveness, and offers suggestions for future improvements. This includes:
providing recommendations to the MPCA commissioner on improvements to policies and procedures to ensure integration of environmental justice principles into the MPCA's work.
collaborating with the MPCA to improve civic engagement with environmental justice communities and acting as liaisons to strengthen communications and relationships between environmental justice communities and the MPCA.
sharing oral history and community experiences so the agency can better understand the communities they serve and inform community-based solutions.
Learn more: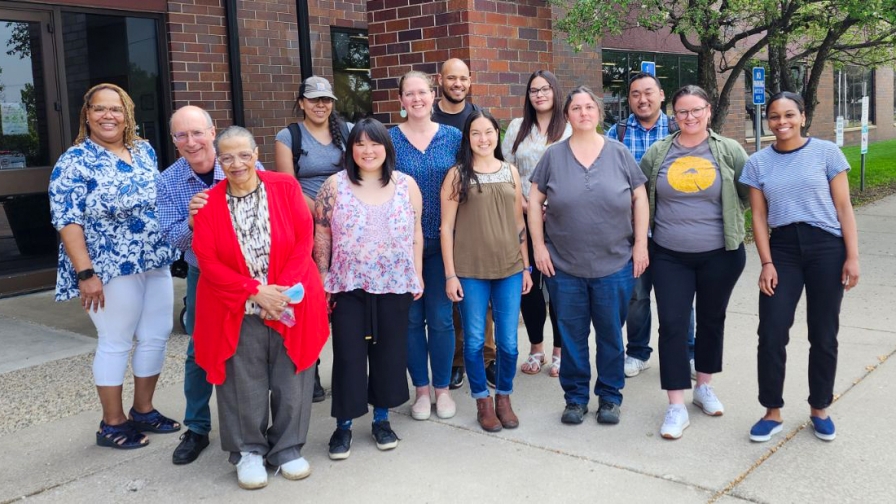 Membership
The MPCA commissioner selects members with input from a selection committee that includes external stakeholders and current EJAG members. The commissioner will strive to appoint a diverse group of people from various parts of the state, with a variety of backgrounds and skills.
James Brown is a 30-year-old resident of Minneapolis in the NE Logan Park neighborhood. He developed an interest in environmental justice as a teen, realizing that the neighborhood he grew up in was considered a "food desert" and wondering why his family, and community couldn't get access to higher-quality food. He has been studying and advocating for environmental justice and the intersections it has with other socioeconomic issues, and in his free time you'll find him in a state park hiking, outdoors, reading comic books, or vibing to music.
Deirdre Coleman has worked in the environmental fields of water and energy sustainability for over 15 years and has a background in volunteer leadership, program development, and facilitation. She believes that environmental justice is at the forefront of her working and personal lives and hopes to listen, learn, and act on injustices as a part of this community and working group.
Andrea Gierok-Rossin is an assistant professor of Public Health at Winona State University, with a bachelor's degree in business administration from Winona State, a master's of public health in community health from the University of South Florida, and doctorate of education at St. Cloud State University. She was a health educator for Winona County Health and Human Services and worked as a community outreach coordinator for the American Cancer Society. She serves on the Winona County Department of Health & Human Services Advisory Board and the Winona County Community Health Improvement Plan committees for health equity and social well-being, as well as the Winona Area Public Schools Community Education Advisory Board. In her spare time, she likes to visit family in the Boundary Waters and read for pleasure.
Sarah Gong is passionate about intersectional and holistic justice. She is a staff member at the Metropolitan Council and has been at the forefront of the council's environmental justice work, including the creation of qualitative and quantitative environmental justice assessment tools for the council's Climate Action Plan and the ongoing creation of an environmental justice framework for regional policy. She believes in the power of community and collective action. Sarah comes to the EJAG with the lens of navigating systemic barriers and parameters while appropriately pushing boundaries in ways that makes space for community-centered, reparative, and contextualized conversations and actions.
Sachi Graber (she/they) is the associate director for climate with The Nature Conservancy's Minnesota, North Dakota, and South Dakota chapter. Sachi is a strong advocate for environmental equity within TNC and public systems and supports environmental justice implementation as vice chair of the Board for Cooperative Energy Futures. Sachi has previously worked with Rocky Mountain Institute and the U.S. Peace Corps. They hold a master's degree from the University of Michigan's School for Natural Resources and Environment and a bachelor's in physics from Grinnell College.
Lakota Ironboy is Oglala Lakota and Grand Portage Ojibwe. She currently serves as the environmental justice liaison for the Leech Lake Band of Ojibwe. While tribes consider environmental justice in all aspects of programming, this position is the first of its kind among Minnesota tribes to solely dedicate a program to work on environmental justice issues. In addition to her EJ work, she is currently in her second year of graduate school at the University of Minnesota Duluth in the Master of Tribal Resource and Environmental Stewardship program. Her work and her studies come together to center her focus on relationship to place and environmental justice in her communities.
Natalie Johnson is a trauma-conscious therapeutic yoga teacher and MNsure navigator dedicated to helping folks gain access to greater health and well-being. She also volunteers as a racial justice facilitator and community garden Land Stewardship Committee member. She is passionate about sustainable food systems and is inspired by the holistic permaculture ethics of earth care, people care, and fair share. A proud resident of Duluth's Lincoln Park neighborhood, Natalie is honored to be serving her community and supporting the movement toward a healthy, thriving environments for all Minnesotans.
Leslie Kaup is a farmer, activist, and writer who works as a cook in a hospital in southern Minnesota. Through this job, she is a union leader and executive board member of SEIU Healthcare MN & IA. She grew up in Iowa, moved to Minnesota in 1998, and has an English degree from the University of Minnesota. Leslie is co-founder of the Center for Deep Ecology, a non-profit which works towards creating the world we want to live in through environmental education. She also works Wild Again Farm, with perennial crops including hazelnuts, apples, berries, and mushrooms.
Ellie Leonardsmith is the health and environmental justice organizer with the West Side Community Organization. She is especially passionate about food justice, access to nature, and air pollution. She received bachelor's and master's degrees in environmental studies, with her thesis work focusing on state-level EJ legislation. She currently lives on the west side of Saint Paul with her wife and three children.
Lauren McKenzie is a Minnesota-raised environmental justice advocate with background in public health with emphases on global and environmental health. Her interests are rooted in health equity and in her daily life she works as a public health researcher/epidemiologist for the city of Minneapolis.
Jenna Grey Eagle (Nape Mato Win) is an enrolled member of the Oglala Lakota Sioux Tribe of South Dakota. Since the KXL pipeline threatened treaty territory of the Dakotas, Jenna has been passionate about a world beyond fossil fuels and centering Indigenous voices, culture, and history. She is the environmental justice educator and stewardship coordinator at Wakan Tipi Awanyankapi. Jenna is also a beadwork artist, Indigenous gardener, and received a bachelor's degree in environmental studies from Augsburg University. She believes that positive cultural and ancestral based knowledge are vital components to Indigenous resiliency.
Audua Pugh has lived in North Minneapolis for 20 years and is a wife, grandmother, and entrepreneur. In 2014, Audua and her husband Michael founded Rusty and The Crew, an environmental justice service agency with a mission to shift the paradigm around recycling and organics recycling in local and underserved communities.
La Shella Sims is a coal miner's daughter from Wevaco, West Virginia, and has lived in North Minneapolis for 52 years. She has been in community organizing for 31 years. La Shella recently retired as lead organizer with the Metropolitan Interfaith Council on Affordable Housing but continues to advise on metro-area projects such as the Blue Line Extension light rail transit system, the Northside Eco-Harbor Organization (Upper Harbor Terminal project), and the Minnesota Department of Transportation's Sustainable Transportation Advisory Council.
Steve Sternberg is an associate professor of chemical engineering at the University of Minnesota-Duluth. His work focuses on environmental engineering issues, including industrial wastewater pre-treatment, landfill design, groundwater contamination modeling, climate change, air pollution, and environmental justice impacts.
Akia Vang is a graduate student at the University of Minnesota Twin Cities in the Humphrey School of Public Affairs studying science, technology, and environmental policy. He grew up in North Minneapolis and is involved in endeavors at the nexus of climate, energy, and environment with an evolving interdisciplinary lens on equity.