Lake or stream volunteers gather vital information about the health of our water resources.
1. Pick a site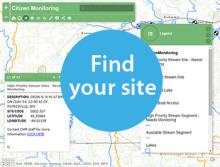 Use this online tool to
find waterbodies that need volunteer monitors
.
2. Complete an enrollment form
Lakes and streams
Use e-Services to register. Lake volunteers need access to a water craft (canoe, kayak, paddleboat or motorboat) to participate. Stream volunteers can monitor from a bridge or stream bank.
Instruction guide for enrolling as a new volunteer (wq-s1-85b)
Once enrolled, we can help you identify a specific monitoring location and will send you a complete monitoring kit, including written instructions, datasheets, and training videos.
If you need additional information or assistance, please contact a coordinator:
watervolunteers.mpca@state.mn.us
651-296-6300 or 800-657-3864 (Greater Minnesota)