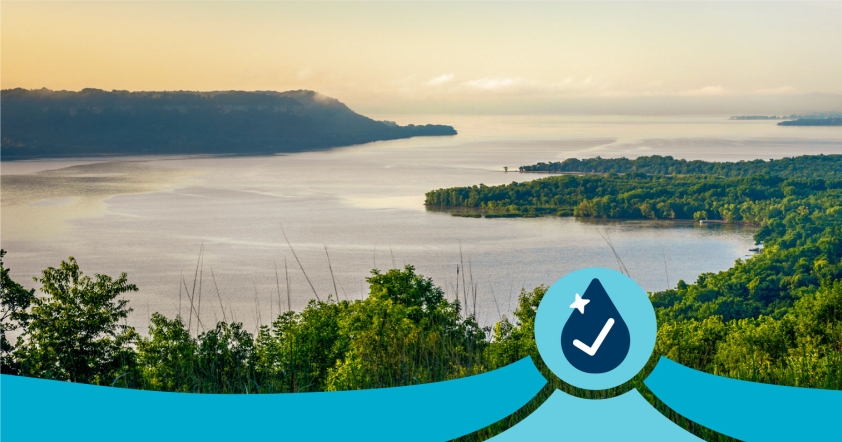 15 lakes in central Minnesota removed from list; one added due to "forever chemicals"
The Minnesota Pollution Control Agency (MPCA) today released its proposed impaired waters list for 2024, adding 199 impairments over 54 water bodies. The number of water bodies added are a significant decrease compared to the 2022 list, which illustrates progress in restoring and protecting water — though challenges remain throughout the state, particularly related to difficult to manage pollutants such as "forever chemicals" and sulfate. 
The list is required by the federal Clean Water Act. It includes waters that no longer meet water quality standards, as well as water bodies that have improved and are proposed to be taken off the list. This year's list assessed and reviewed Mississippi River – Twin Cities, Minnesota River – Yellow Medicine River, Bois de Sioux River, and Mustinka River watersheds, among others throughout the state. The list underscores Minnesota's progress in restoring and protecting waters while highlighting the need for long-term solutions.
Common impairments in these watersheds throughout central and west central Minnesota include conditions stressing fish and bug populations, such as poor habitat, sediment, and nutrients. These impairments have led to studies and plans to restore the waters to meet standards. Some successes seen in central Minnesota include 15 lakes removed for nutrient improvements. One such lake in Ramsey-Washington Metro Watershed District, Kohlman Lake, is proposed for removal after more than 20 years of restoration efforts that included parking lot improvements at the Maplewood Mall, church rain gardens, and technical projects from the watershed district.
"Minnesota's 2024 impaired waters list reflects our continued work to safeguard our state's water resources," said MPCA Commissioner Katrina Kessler. "While progress is evident in the decrease in water body listings and impairments, the challenges we face, particularly in addressing sulfate levels and PFAS contamination, remind us that our mission of water restoration and protection is critical for Minnesota's future." 
Highlights from the 2024 impaired waters list include:
Adding 199 impairments over 54 water bodies, bringing the total amount of listings from all years to 2,798 water bodies with 6,349 impairments.
Removing 27 listings for improved water quality.
This year's list demonstrates a significant decrease from 2022, which proposed 417 new impairments over 305 water bodies.
This indicates an 82% decrease in water body listings and a 52% decrease in impairments
Lake trend data also indicate 31% of monitored lakes are improving in clarity and 9% are declining.
Continued challenges to water quality  
Per- and polyfluoroalkyl substances (PFAS), commonly known as the "forever chemicals" used in industrial settings and found in numerous consumer products, continue to be found in water bodies throughout the state. One type of PFAS, Perfluorooctane sulfonic acid (PFOS), can accumulate in fish and is transferred to humans when consumed, potentially causing adverse health effects. The MPCA proposes the addition of three more water bodies to the list due to high levels of PFOS: Sargent Creek and Miller Creek in Duluth, and Crystal Lake in Robbinsdale. This brings the total number of water bodies impaired for PFOS on the list to 26.
The MPCA is working collaboratively with other state agencies to identify and address water bodies impaired because of PFOS in fish tissue. This work is guided by the statewide PFAS blueprint, which outlines strategies to prevent, manage, and clean up PFAS contamination in the environment.
The 2024 list also includes 20 new water bodies that are impaired for sulfate — a naturally occurring nutrient that can also be found in discharges from mining operations, wastewater treatment plants, and industrial facilities. Sulfate negatively impacts the growth of wild rice, which is an important part of the biological community in many Minnesota lakes, streams, and wetlands and a cultural and economic resource to many, particularly tribal nations.
Of the 20 new waters impaired for sulfate, 13 are wild rice lakes and 7 are streams. The MPCA has identified approximately 2,400 waters used for the production of wild rice, and this list is open for public comment for the first time, included among documents related to the 2024 impaired waters list.
A milestone achieved: monitoring and assessment of all 80 watersheds
The MPCA has completed the first round of monitoring and assessment of all 80 watersheds in Minnesota, which it began in 2010. This comprehensive data is gathered in conjunction with partners throughout the state and drives the development of the impaired waters list. It also informs strategies designed to improve water quality, called watershed restoration and protection strategy (WRAPS) reports. Moving forward, the agency's goal is to monitor and assess each of the 80 watersheds every 10 years to track changes in water quality and progress in restoration efforts. This work is funded by the Clean Water, Land, and Legacy Amendment.
Public comments encouraged through Jan. 12, 2024
Minnesota's draft impaired waters list, assessment manual, and revisions to appendix A of the statewide mercury TMDL will be on public notice through 11:59 p.m., Jan. 12, 2024.  The MPCA invites Minnesotans to submit comments on whether additional waters should be placed on the list or be removed, and to attend one of several public meetings about the list. For the list, more information about impairments, upcoming public meetings, and how to comment, please visit the MPCA website.
As required by the federal Clean Water Act, Minnesota develops a list of impaired waters every two years. The draft 2024 list is due on April 1, 2024, to the U.S. Environmental Protection Agency, which will make the final decision on approving the list.
Share this