For Josh Krenz, a third-generation cattle farmer near Princeton, Minn., water has always been part of what he's had to think about. "Water is essential to everything we do," Krenz explains.
Krenz is certified in the Minnesota Agriculture Water Quality Certification Program, a voluntary opportunity for farmers and agricultural landowners to take the lead in implementing conservation practices that protect our water.  Krenz says the program gives farmers the opportunity to ask questions, be educated in a safe environment, and get certified.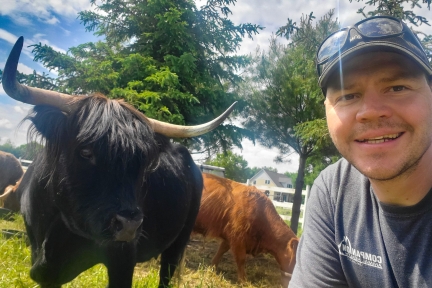 "One of the things that the program is working on with us right now is our manure handling. When you have cattle in Minnesota, at some point in the wintertime cattle congregate." The certification program helped Krenz think about how to manage that area better, to be sure there wasn't unintentional runoff carrying manure to local waterways.
"We would traditionally just leave that area barren during the summer. We'd let some weeds grow up and then we'd come back out in the fall and start again," Krenz says. "This year we actually no-till planted oat seed. Oats are a grass. The oats came in and by fall had grown up, had gone to seed. And those oats will help that soil hold nutrients there better. Which is really what we're trying to do when we're trying to prevent things like runoff, is keep nutrients where they are. We wouldn't have learned that if we hadn't gone through the Minnesota Agriculture Water Quality Certification Program."
When it comes to working together to protect water in Minnesota, Krenz says "What I'd want people to know is that farmers first and foremost want to protect water. It's for their families, it's for their future, it's for their livelihood, it's what they do."
Visit the exhibit
Krenz shared his story as a part of We Are Water MN, a traveling exhibit and community engagement program that explores Minnesotans' relationships with water. The Mississippi River St. Cloud Watershed Collaborative is hosting the exhibit and related programming in partnership with the Sherburne History Center.
You can listen to Krenz's story — and other local stories — at the exhibit. The exhibit also explores the Mississippi River – St. Cloud watershed's water challenges, successes, and how anyone can get involved protection and restoration.
Visit the exhibit through April 24 at the Sherburne History Center, 10775 27th Ave SE, Becker, MN 55308. It's open Tuesday to Friday 10 a.m. to 5 p.m. and Saturday 9 a.m. to 4 p.m. Admission is free.
Events and activities
The Mississippi River St. Cloud Watershed Collaborative has several events planned in conjunction with the exhibit, including:
Well-water nitrate testing clinic and presentations on lake and stream water quality trends in the Mississippi River - St. Cloud watershed, March 22 from 3 p.m. to 7 p.m.
Youth water festival featuring activities for families, April 22 from 10 a.m. to 1 p.m.
History walks along the Mississippi River in St. Cloud
Agriculture conservation field day
Find exhibit and event details on the Sherburne Soil and Water Conservation District website.
About We Are Water MN
We are Water MN is led by the Minnesota Humanities Center in partnership with the Minnesota Pollution Control Agency; the Minnesota Historical Society; the Board of Water and Soil Resources; the Minnesota Departments of Agriculture, Health, and Natural Resources; and University of Minnesota Extension.
The program is funded in part with money from the Clean Water, Land & Legacy Fund — which was created with the vote of the people of Minnesota on November 4, 2008 — and by the National Endowment for the Humanities.