Minnesota Pollution Control Agency (MPCA) grants sparked nearly $1 million in cumulative investment to replace gas-powered landscaping equipment with electric alternatives.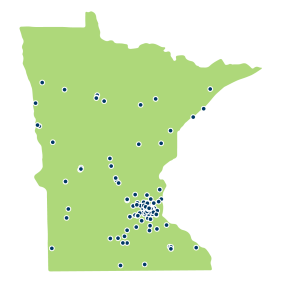 The MPCA's Alternative Landscaping Equipment grant program, which recently concluded after four years, awarded $452,000 in grants to 168 businesses and local governments across the state. Matching funds from the recipients increased the total investment to $944,000. The funding replaced two-cycle gasoline-powered landscaping and snow-removal equipment, including chainsaws, pole pruners, push-operated lawn mowers, hedge trimmers, leaf blowers, and other equipment.
"The MPCA supports businesses that want to make proactive changes and embrace more sustainable operating practices," said Kari Cantarero, MPCA grant coordinator. "These grants helped organizations address the costs involved in making that transition. While landscaping professionals were initially skeptical of how well the electric-powered equipment would perform, many came to prefer it over traditional equipment."
Gas-powered landscaping equipment is a significant source of volatile organic compounds (VOCs) and other pollutants, particularly in urban areas. According to the U.S. Environmental Protection Agency, a new gas-powered push lawn mower produces as much air pollution (volatile organic compounds and nitrogen oxides) in one hour of operation as 11 cars driven for the same length of time. These pollutants impact the health of those operating the equipment as well as nearby residents.
In total, the grant program reduced annual VOC emissions by an estimated 361 tons. Two-thirds of this reduction came from organizations based in areas where more people of color and lower-income residents live. These communities often have higher estimated rates of death and disease related to air pollution, according to the 2022 Life and Breath report released earlier this year.
Other benefits of switching to electric landscaping equipment include:
less air pollution, reducing community health impacts and slowing climate change.
safer to operate, with no engine exhaust or burns and less hearing loss.
lower operating costs from a lack of need to buy gas.
quieter operation, benefiting employees, customers, and wildlife.
lighter equipment that is easier to carry for a long period of time.
easier maintenance, with no need to mix oil and gasoline or clean up spilled fuel.
equal performance to gas equipment in most applications.
While the Alternative Landscaping Equipment grant program has concluded, the MPCA Small Business Environmental Assistance Program continues to offer other grant and loan programs to assist businesses in adopting more sustainable practices. The program also helps independently owned and operated small businesses comply with environmental rules, lower waste and emissions, and reduce regulatory obligations.
Share this