The MPCA and the Minnesota Department of Health (MDH) discovered contamination from the chemical 1,4-dioxane, a likely carcinogen, while conducting water sampling near the closed Waste Disposal Engineering (WDE) Landfill in Andover. The chemical was found in private residential wells near Bunker Lake Boulevard and Crosstown Boulevard.
Our role
In 2022, the MPCA completed re-sampling of residential wells in the Andover Red Oaks neighborhood. The re-sample results showed very few changes from the original results. Refer to the map below for a summary of the sample results.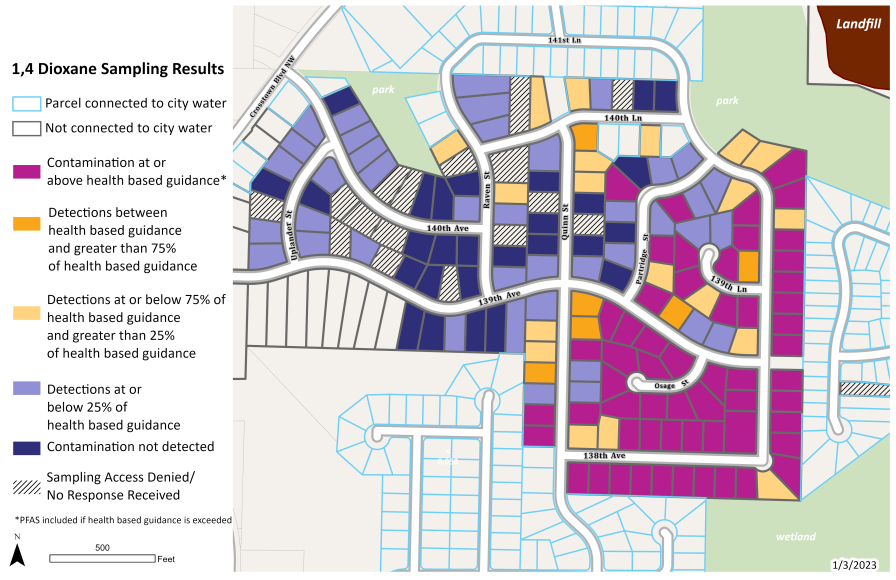 The Red Oaks neighborhood is located in close proximity to WDE landfill. See the Groundwater Contamination Atlas for additional groundwater data.
Drinking water plan addresses immediate community needs
MPCA's mitigation and monitoring plan identifies long-term strategies to address private well contamination in the Red Oaks neighborhood. This plan includes both extending the municipal water system (mitigation area) and long-term well monitoring (monitoring area).
More information
Private well sampling
Inside the investigation area. For questions or additional information about private well sampling contact John Hunter of the MPCA: john.hunter@state.mn.us or 651-757-2456.
Outside of the investigation area. Four Minnesota-certified testing laboratories will analyze water samples from private well owners to test for 1,4-dioxane. The State of Minnesota does not endorse or guarantee any specific laboratory or services any laboratory may provide.
Pace Analytical Services, LLC (612-607-1700)
Interpoll Laboratories, Inc. (763-786-6020)
RMB Environmental Laboratories, Inc. (952-456-8470)
Minnesota Valley Testing Laboratories, Inc. (507-354-8517)
MDH does not issue well advisory letters based on third party results. MPCA would need to resample the well and provide results to MDH before a well advisory would be issued. MPCA and MDH staff are available to answer questions about private testing results. 
Stay connected
Sign up for email updates about the Andover-area groundwater investigation.