The Eco Experience is our huge exhibit at the Minnesota State Fair, filled with hands-on activities, demonstrations, and resources. Learn from experts about what you can do to help improve our air, land, water, and climate. We'd love to see you there!
What to see in 2023
Image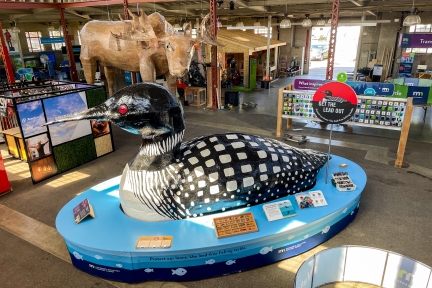 Migrating south for a second visit to the Eco Experience, Virginia, Minnesota's 23-foot floating loon will help you learn about safer fishing tackle and climate change. Come see this historic Minnesota icon, hear its many calls, and get a free sample of lead-free tackle and a loon temporary tattoo!
Made from more than 500 pounds of cardboard, our giant moose looms large! In 2020 alone we sent more than 7 million pounds of cardboard to recycling facilities. That's enough to build 1.5 million of these giant moose!
Catapult Wiffle balls, take a photo inside an ice house, and visit with community partners to learn about how Minnesota is working on solutions to climate change.
The Electric Garage has electric vehicles (EVs), E-bikes, an electric snowblower, and an electric lawnmower on display. See what changing from gas to electricity can do for your wallet and for the environment.
The "World's Biggest Bike" returns for a fun photo op. Biking is a great way to get around while preserving air quality. Try new habits: Not driving a gas car to work one day a week results in 20% less carbon emissions.
Stand next to a stack of recycled aluminum ingots weighing more than 2,000 pounds and learn how aluminum scrap gets recycled and made into new products.
The ever-popular Eco Bingo game is back! Pick up a bingo card at the information desk, visit exhibits throughout Eco Experience to learn about our air, land, water, and climate, and win a fun prize when you get a BINGO!